Price of 'Safe Haven' Gold Struggles as Bond Yields Jump on China PMI, Trump Demands Fed Rate Cuts
Monday, 12/02/2019 14:31
GOLD PRICES tested what some technical analysts called 'support' at $1455 Monday morning as investors started December in a risk-on mood, driving interest rates higher after China's factory activity rose to a three-year high, writes Atsuko Whitehouse at BullionVault.
Already retreating 1.7% on a month-average basis in November - the fastest drop since August 2018 – gold prices fell 0.6% today before rallying to $1459 per ounce Monday lunchtime in London.
The Japanese Yen, often seen as a safe-haven investment, also fell with gold prices, hitting a six-month low on the FX market as US and German government bonds recorded their sharpest price falls in 3 weeks.
That sent the 10-year US Treasury yield jumping 8 basis points higher to 1.85%, with the equivalent Bund yield up by 7 basis points to -0.29%.
Over the last 12 months, gold prices have moved in the opposite direction to US government bond yields nearly two-thirds of the time week to week.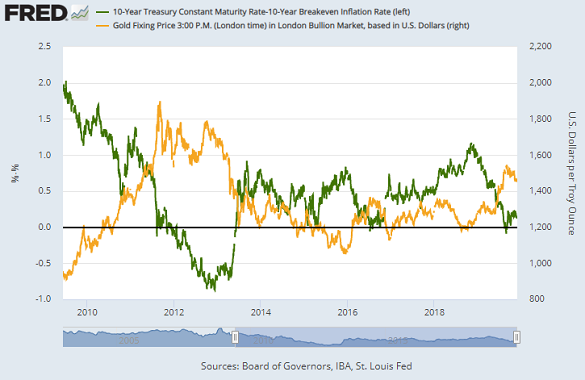 demand for gold," says Hareesh V, head of commodity research at Geojit Financial Services.
Gold prices for European investors fell 0.4% to €1324 even as the Euro weakened versus the US Dollar after Germany's ruling coalition was shaken by the election of a new left-wing leadership team in Chancellor Angela Merkel's Social Democratic Party partners.
The UK gold price in Pounds per ounce
meantime declined 0.3% to £1127 even after new data showed the 'radical' leftwing Labour Party under Jeremy Corbyn gaining on the ruling pro-Brexit Conservatives in 4 out of 5 major opinion polls.
European shares opened higher, following Asian markets upwards after the private-sector Caixin PMI survey of manufacturing activity gave its strongest reading since December 2016.
The pan-European Stoxx 600 pared that gain, however, after US President Donald Trump threatened to impose tariffs on metal imports from Brazil and Argentina – accusing both countries of devaluing their currencies and thereby hurting American farmers – and also called on the Federal Reserve to cut its Dollar interest rates.
.....Reserve should likewise act so that countries, of which there are many, no longer take advantage of our strong dollar by further devaluing their currencies. This makes it very hard for our manufactures & farmers to fairly export their goods. Lower Rates & Loosen - Fed!

— Donald J. Trump (@realDonaldTrump) December 2, 2019
The US central bank's policymaking committee holds its next meeting on 10-11 December.
According to derivative exchange the
CME's FedWatch tool
, betting on US interest-rate futures currently sees zero chance of any US rate cut next week, with 94.8% expecting no change at 1.75% while 1-in-20 bets thinks the Fed will actually hike.
China's stronger PMI data came as US retailers reported a record $7.4 billion in online sales for Black Friday.
Hopes of a US-China trade deal have now stalled, claims news-site Axios, after Trump signed US legislation backing protesters in Hong Kong.
Hundreds of people in Hong Kong gathered at Chater Garden on Sunday afternoon to thank Trump for signing the legislation.
Beijing is now sanctioning US human rights groups in retaliation, a spokeswoman said Monday.
Foreign NGOs are already heavily restricted in China and have previously received sharp rebukes for reporting on rights issues in the country, including the mass detention of Uighurs in Xinjiang.