Gold Price Struggles, China's Imports Sink, Record-High US Stock Markets 'Too Optimistic' on Trade Deal
Tuesday, 11/26/2019 14:04
GOLD PRICES lost half of a overnight rally in London trade Tuesday, slipping back to $1455 per ounce against a flat US Dollar as Beijing stoked hopes of a 'Phase 1' agreement in the US-China trade war.
Senior negotiators spoke with White House counterparts by phone this morning to resolve "remaining issues", the Ministry of Commerce
said in a statement
.
Major government bond prices edged higher however, nudging longer-term US interest rates down to the middle of this autumn's range so far at 1.75%.
After Wall Street closed at fresh record highs meantime, European stock markets struggled to extend a third day of gains in Asian equities.
"Phase 1 is a big event that the markets are looking at...[but] I think the news will be far more disappointing than the rumor of a deal."
World trade contraction triggered by 2008-09 financial crisis was 1st prolonged&deep decline in world trade since Great Depression. Recovery since sporadic w/underlying trade growth rate well below prior 5 decades, leaving world with substantial excess capacity which remains now

— Harald Malmgren (@Halsrethink) November 26, 2019
Meantime in Shanghai, prices for gold bullion landed in China – the metal's No.1 consumer nation – leapt to a premium of $5.80 per ounce over London quotes, snapping the weakest incentives for new imports since October last year but still lagging average levels by almost $3 and suggesting weak domestic demand against supply.
"2019 has so far been a tough year for Chinese jewelry demand," said a note from specialist analysts Metals Focus last month, reporting from the
London Bullion Market Association's annual conference
, held this year in China's tech-industry and manufacturing hub of Shenzhen.
"In many ways this is not a big surprise, given the backdrop of challenging conditions,"
Metals Focus
goes on, pointing to slower GDP growth, the US trade war, rising food prices (thanks both to pork shortages and higher tariffs), plus a wider slowdown in retail sales growth.
"Against all this, the 6% annual losses suffered by gold and platinum jewelry are arguably modest," Metals Focus concludes.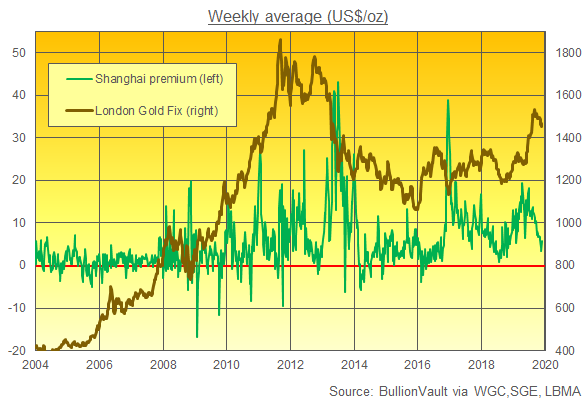 "The high gold price is another factor," adds commodity strategist Matthew Turner, formerly at Mitsubishi Corp. and then Macquarie Bank, noting that
China imported just 35 tonnes
of gold bullion in October, "the lowest monthly amount since it began reporting official trade data from January 2017.
"Seasonality must have played a role given [the
Golden Week
] holidays in October. But while the trajectory of imports looks a little similar to 2018, it is at a far lower level."
China's giant commodities trading group Tewoo is set "to become the most high-profile state-owned enterprise to default in the Dollar bond market in over two decades," reports Bloomberg, after the SOE told bondholders last Friday that they have 2 weeks to accept either a 64% write-off or new debt securities offering much lower interest rates.
Estimated to have some $38 billion in assets, the unlisted company owes around $2bn in Dollar-denominated debt.