Stock Markets Rise Amid Fresh US-China Hopes, Gold Prices Slip After Speculators Raised Bullish Bets
Monday, 11/25/2019 14:57
GOLD PRICES fell Monday in Asia and London as renewed hopes of a US-China trade deal, plus a landslide victory for opposition candidates in Hong Kong's local elections, saw investors push world stock markets to new record highs, writes Atsuko Whitehouse at BullionVault.
US national security adviser Robert O'Brien on Saturday said a so-called 'phase one' deal with China could still be reached by the end of the year, while the Global Times, a tabloid in English run by the ruling Chinese Communist Party's official People's Daily, also said a 'phase one' deal was very close.
Major government bond prices also slipped as equity indexes gained Monday, edging longer-term interest rates higher, while the Japanese Yen – also often seen as a 'safe haven' trade – fell a 1-week low versus the US Dollar but the Chinese Yuan rose.
Down $5 per ounce from Friday's finish, wholesale gold bullion traded at $1457 as New York opened for business, barely $10 above last week's 3-month price low.
"Spot gold may test [that] support at $1455 per ounce, a break below which could cause a fall to $1440," reckons technical analyst Want Tao at Reuters.
Latest data show that hedge funds and other leveraged speculators in Comex gold futures and options increased their bullish bets and cut their bearish bets against gold prices last week as a group.
Net-net that made the Managed Money's overall position 12.8% more bullish in the week-ending Tuesday 19 November, still smaller by more than one-fifth from the
record net spec' long on gold derivatives
of late September.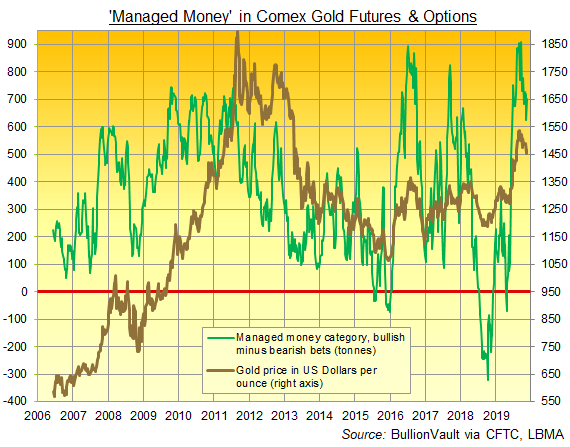 Speculators in US derivative contracts also raised their net bullish betting on silver prices, up 24.8% on last week's data –
gathered and published
US regulator the Commodities Futures Trading Commission (CFTC).
That still left net bullishness towards silver among money managers 58.8% below the peak in mid-April 2017.
Silver tracked gold prices on Monday, losing 0.9% after holding above $17 per ounce all last week before rallying to $16.92.
Platinum prices
fared better, edging $5 per ounce above last week's finish to trade at $896 as sister metal palladium rose for the 8th session in 10 to trade within $25 per ounce of late-October's record high at $1799.
Hong Kong stocks meantime closed 1.5% higher on the Hang Seng index after opposition pro-democracy candidates took 17 of 18 district councils – news which mainland China's official broadcasters
failed to report
, saying only that elections had taken place in the protest-torn city.
The vote saw record turnout of 71%, with more than 2.9 million people casting ballots -- roughly double the number in the previous election.
Here in London,
the UK gold price in Pounds per ounce
declined 0.7% to £1130 as Sterling climbed on the FX market, with opinion polls continuing to point to a clear victory for Prime Minister Boris Johnson – whose Conservative Party election manifesto pledges a quick Brexit, plus tax cuts and more spending – in next month's General Election.
Gold prices for European investors meantime edged lower to €1323 per ounce even as the single Euro currency slipped toward monthly lows after Germany's Ifo institute said Monday that Germany's business sentiment has turned a little less negative, but its giant manufacturing sector is still stuck in recession.