US-China 'Pessimism' Sees Gold Price Reverse 0.8% Drop But New 4-Month Low Hit in UK Pounds
Monday, 11/18/2019 15:24
GOLD PRICES rallied to reverse an overnight fall of 0.8% in London trade Monday, rebounding as Western stock markets fell as pundits questioned talk of "constructive discussions" on a US-China trade deal, writes Atsuko Whitehouse at BullionVault.
Gold prices had initially fallen $12 to $1456 per ounce, erasing last week's small gain, as Asian equities rose after the People's Bank of China trimmed borrowing costs in the world's No.2 economy.
But "mood in Beijing about trade deal
is pessimistic
," claims CNBC's chief correspondent in the city.
"Nervous trading lies ahead [for gold] while the market responds to trade news and movements in stocks, bonds and the Dollar," one spread-betting analyst tells Reuters.
Meantime in the Comex futures and options market, "Buyers no longer hold the control they had just a few months ago," he adds.
Latest data say hedge funds and other leveraged speculators cut their bullish betting on gold by more than 12% last week, but also cut their bearish betting by 6%.
Overall, that pushed the net long position of Managed Money traders down to the smallest since the middle of June, down 27% from the record peak at the end of September.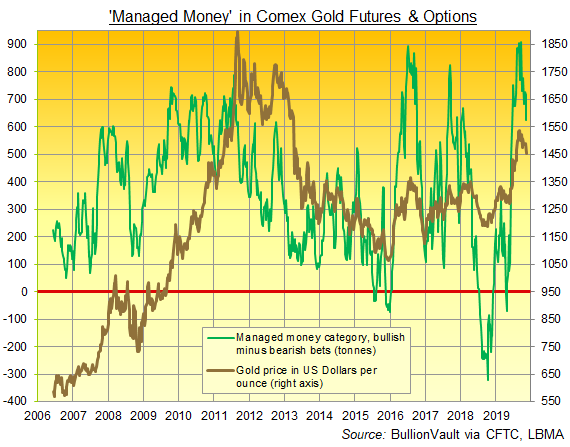 Speculators using Comex derivatives also reduced their net betting on silver prices last week, the data from US regulators the CFTC say, down by 23% to the smallest in 4 months.
Back in Monday's action, longer-term interest rates also fell on the bond market after Beijing's small cut to 7-day money market rates, pushing 10-year US Treasury yields down to 2-week lows of 1.80%.
"5 basis points is about not rocking the boat, but it's a shift," says former bullion-bank Societe Generale's strategist Kit Juckes of the PBoC's move to 2.50% – a "psychological massage" for China's markets according to Germany's Commerzbank.
Hong Kong's stock market rose 1.4%, its biggest daily gain in two weeks, even as police lay siege to a university where hundreds of anti-government protesters threw petrol bombs and used homemade weapons to try and evade capture.
The city's High Court today found that the local government's ban on wearing face-masks was unconstitutional.
Economic data confirmed Friday that Hong Kong has entered its first recession in a decade.
Gold prices for Eurozone investors also recovered an earlier dip Monday, rallying back to €1324 even as the single currency edged higher against the US Dollar on the FX market.
The UK gold price in Pounds per ounce
meantime halved its overnight fall of 1.1%, bouncing off a new 4-month low of £1123 as current the CBI conference of business leaders was addressed by the leaders of the 3 main national political parties ahead of next month's snap general election.
Latest opinion polls – repeatedly wrong on UK votes since 2015, most spectacularly on the 2016 Brexit referendum – currently put support for the ruling Conservatives at 42% with Labour on 28% and the LibDems on 13%.