Gold Price Falls as S&P Jumps with Bond Yields on Talk of US-China Trade Deal
Thursday, 11/07/2019 15:07
GOLD PRICES fell $10 at the start of London trade Thursday, falling back near Tuesday's 3-week low of $1480 against a rising Dollar as both Beijing and Washington signalled that a US-China trade deal may be coming together.
Gold prices then bounced weakly from $1481 in Dollar terms as New York's stock markets followed global equities upwards and opened at a new all-time S&P500 record.
Major government bond prices in contrast fell with gold, driving 10-year US Treasury yields sharply higher to the most since end-July at 1.9% per annum.
Gold priced in the Chinese Yuan fell harder, down almost 1% on the day, as the currency of gold's No.1 consumer nation extended its rally to stronger than 7 per Dollar – an 11-year low in the Yuan when breached this spring.
A meeting between US President Donald Trump and China's President Xi Jinping may meantime
happen in December
, the White House said overnight, with the 2 sides set to seek a broader, long-term agreement at a summit on neutral ground, perhaps Switzerland or London.
"If we see the trade talks go further in a positive direction,
we will see more pressure on gold
," Reuters quotes researcher Vandana Bharti at Indian brokerage SMC Comtrade.
Gold and the Yuan became closely aligned versus the US Dollar starting in mid-2016, moving in the same direction in 71.2% of the weeks until May 2019, when
Trump first threatened
and then imposed a tariff hike from 10% to 25% on $200bn of Chinese imports.
Since then, the Yuan and gold have gone in opposite directions 56.5% of the time.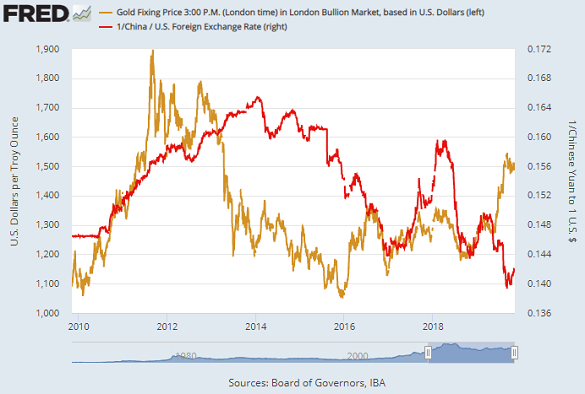 "Slow session for metals this morning," said Swiss refiner MKS Pamp's Asian trading desk earlier on Thursday, "[with] gold trading sideways between $1490-91."
Gold prices for German, French and Italian investors also rallied as the Euro currency fell against the Dollar, edging back up to €1345.
Two women arrested for smuggling gold through Chennai airport last week
now claim they were kidnapped
by gangsters from the hospital where customs officials had taken them to remove the kilogram of gold they had reportedly swallowed.
"The gang took them to a private hospital, and removed the gold from them after giving them a stomach wash," the duo claim.