Interest Rates and Gold Prices Rise vs Weak Dollar After Final US Debate, China Set to Stockpile Copper to 2025
Friday, 10/23/2020 14:02
GOLD PRICES held flat or showed a loss for the week against all major currencies except the Dollar on Friday, trading in the middle of this month's tight range as global stock markets rallied but copper trimmed its surge to 2.5-year highs as the US currency fell following the final debate between White House contenders Trump and Biden.
Copper prices retreated 0.9% from yesterday's peak after rallying by nearly one-half from March's Covid Crash, driven by relentless demand from China and expectations for green-energy and technology investment worldwide as governments try to reflate the economy from this year's slump.
US stimulus talks "dragged on" meantime, reports Bloomberg, with no deal between Republican and Democrat politicians now likely until after the 3 November elections.
Losing 1.0% from last weekend by Wednesday night on the MSCI World Index, global stock markets today saw another rise in Asia while the EuroStoxx 600 index erased almost all of this week's earlier 2.8% drop.
Government bond prices meantime slipped again, pushing up the annual yield offered to new buyers of 10-year US Treasury debt to the highest since early June at 0.86%.
Cost-of-living expectations also rose this week but less quickly than interest rates. Together that pushed the real yield on 10-year US government bonds up to -0.89%, the least negative in 3 months.
When real US rates last traded at this level – a multi-decade low when reached on 23 July – gold prices were $60 lower than today at $1852.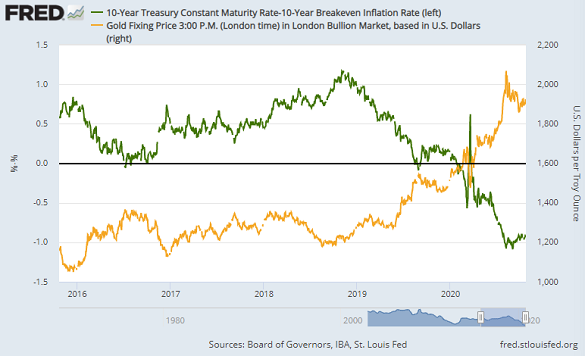 "The low interest-rate environment [and] rising inflationary expectations...remain highly favourable for gold in the medium-to-long term," says Cameron Alexander, director of precious metals research at consultancy Refinitiv.
Also pointing to "economic headwinds, ongoing tensions between the United States and China, and the second wave of Covid-19...in the near term we are likely to see increased volatility [and] choppy trading in the stock markets and the gold price," he adds, "particularly in the run up to US presidential elections."
"We may well see the yellow metal hit a fresh record before the year-end," says Alexander, reporting new demand data worse even than other estimates of a
25% plunge in global gold buying in 2020
thanks to Covid shutdowns, the global recession, and this year's record-high prices.
But copper is
the "darling" of the market
, said Bank of Montreal's commodities research director Colin Hamilton at the LME Week seminar on Tuesday, pointing to "targeted Chinese stimulus, unprecedented US stimulus, increased demand from the renewable sector and issues on the supply side."
Next week's meeting of the politburo in Beijing is expected to confirm that stockpiling vital commodities such as copper is a key aim in its new 5-year plan, reports Reuters.
Reasons include "deteriorating relations with the United States" and the risk to future supplies shown by this year's Covid-19 disruption to mining and shipping, says analyst Max Layton at US financial giant Citi.
BMO also expects "aggressive renewable infrastructure policy" in China's 14th five-year plan, adding extra demand for copper wiring.
Also counting solar energy as well as 5G telecoms technology among its
industrial uses, silver
rose Friday to show a 2.9% weekly gain versus the weaker US Dollar at $24.85 per ounce, more than doubling from March's Covid Crash low.
Gold prices meantime traded 0.7% higher for the week at $1913 per ounce, but showed a £10 and €10 loss from last Friday for UK and Eurozone investors at £1460 and €1611 respectively.
"Gold prices [are] caught precisely between the 20-day and 50-day averages at $1901 and $1924 respectively," says the latest note from brokerage StoneX's chief analyst Rhona O'Connell, "with little by way of fresh short term influences."