Gold Price Pullback 'Sets Up Next Rally' as China Talks Up US Trade Progress, EU 'Serious' on Brexit Extension
Tuesday, 10/22/2019 13:57
GOLD PRICES failed to recover yesterday's 0.6% drop against a rallying US Dollar in London trade Tuesday, holding at $1485 as a senior Beijing official said China is "making progress" in its trade talks with Washington.
Both silver and
platinum prices
held firmer, trading in line with last week's finishes at $17.55 and $887 respectively.
European bourses struggled to extend overnight gains in Asia, while the gold price in Euros edged back up to €1335 – a 7-year high when first reached in August, but now more than 5% below September's fresh all-time peak.
Major government bond prices rallied, edging long-term interest rates lower.
"People are continuing to be optimistic that some type of trade truce with China can be pushed forward,"
says Reuters
, quoting one senior investment manager.
After China's state media accused the US and other Western nations of
meddling in Hong Kong
's pro-democracy protests and violence, vice-foreign minister Le Yucheng today told a forum in Beijing that both sides "
respect each other
and seek equal cooperation" in trying to roll back the US-China trade tariffs imposed since last year.
The S&P500 index of US stocks closed Monday back above 3,000 for the first time in a month, finishing within 1% of July's all-time record, as technology and most notably semi-conductor companies rallied hard.
Over the last 40 years, gold prices and the broad US stock market have moved in opposite directions 50% of the time on a week-to-week basis, 53% across 5-week timeframes, 48% over all 52-week periods, but 59% across all 5-year periods.
Where the Wilshire 5000 Price Index traded lower from a half-decade before, gold was higher 96% of the time.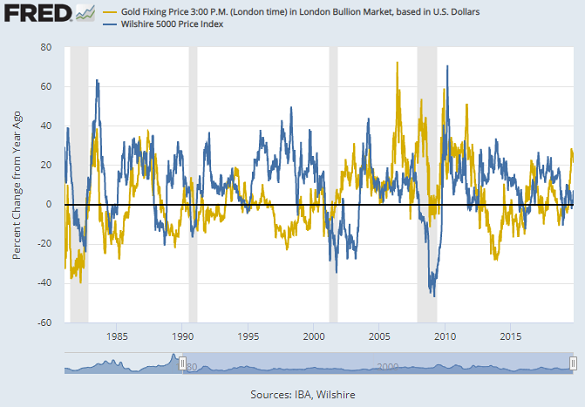 With the last 3 months of the year often seeing gold prices move sideways, "A bit more progress on a US-China trade deal could see gold fall [further] back as economic sentiment improves," Heraeus adds.
"[This] continuation of the current price correction would reduce the level of enthusiasm and set the scene for the next stage of the rally."
Over in Brussels, the European Union will treat the UK's request for a Brexit extension – forced on Prime Minister Johnson by opposition lawmakers and made without his signature last weekend – with "all seriousness" said EU chairman Donald Tusk today.
Britain's minority Conservative Government last night published its 110-page
Brexit Withdrawal Bill
, which – together with 124 pages of explanatory notes – it wants UK Members of Parliament to vote on this week.
The Pound today stalled after rising almost 6% in the last 3 weeks, slipping back below $1.30 but holding 10 cents above the summer's 34-year lows.
That helped
the UK gold price in Pounds per ounce
recover Monday's drop, touching £1150 in London trade – an 8-year high when first reached in July, but now more than 10% below last month's fresh all-time peak.
"Currency strategists
all agree that...the Pound is cheap
," says UK magazine
MoneyWeek
, citing one analyst saying how – "in the absence of the Brexit discount" – the Pound "should be up at €1.30 to the euro, and 'well north' of $1.40 to the US Dollar."
"UK companies are [also]
significantly mispriced
," says the
Financial Times
, quoting an un-named view from a London hedge fund.
Meantime in Moscow, and "regardless of how things work out with the oil price, we will be able to finance our obligations because we have accumulated sufficient gold reserves, more than 7% of GDP," said Russia's Finance Minister Anton Siluanov to CNBC.
"Therefore, even if oil prices go to $30 barrel or $20 a barrel we will able to honor our own obligations for three years without any shocks or difficulties for our budget" – a contrast to Russia's 1998 debt default when its major source of export income
sank to $18 per barrel
, crushing government revenues.
Trading at $59 per barrel of Brent crude today, oil prices are now little changed for October or indeed 2019 so far, erasing all of last month's
20% spike on news
of the Saudi drone attacks.