Gold Price Volatility Ends Week Unchanged Amid Weak Asian Demand as US Jobless Rate Hits Half-Century Low
Friday, 10/04/2019 14:37
GOLD PRICES fell back Friday in London, erasing the last of this week's earlier 1.5% spike as Asian demand remained weak and the Dollar rose following mixed news from the US labor market.
After sinking to 8-week lows at $1459 earlier this week, only to rally near $1520 on Thursday, gold prices today retreated below $1500 per ounce for US investors, while global stock markets popped higher but held over 1% down for the week on the MSCI World index.
Oil prices also rallied, trimming this week's loss on European Brent crude contracts to 5.5%.
Western government bond prices meantime slipped back, edging up 2-year Treasury yields from their
lowest since fall 2017
, hit Thursday's on shock weakness in the ISM's survey of US service-sector activity.
Today's official estimate of September's non-farm US payrolls showed jobs growth slowing by one-fifth from August's upwardly revised figure from the Bureau of Labor Statistics.
But while the net number of US jobs created last month missed analyst forecasts – and while average wage growth slowed to its weakest in 14 months at 2.9% per year – the unemployment rate across the world's largest economy fell to a new 50-year low of 3.5%.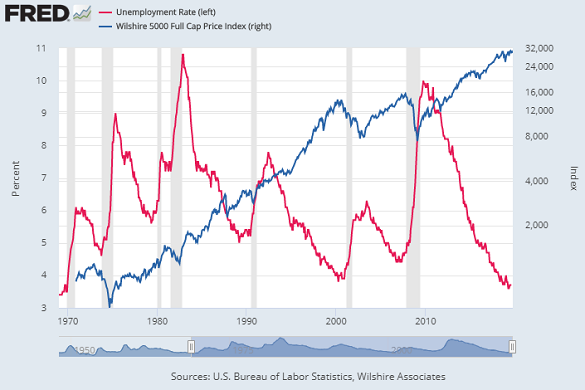 With No.1 gold consumer market China marking its
annual National Day holidays
this week, retail sales in No.2 India continue to suffer from high Rupee prices and additional taxes, local sources report.
"We are expecting a moderate Diwali," says one London analyst of the sub-continent's key Hindu gold-buying festival, starting 3 weeks from today with Dhanteras.
Falling for 3 months running, legal gold imports into India hit a 3-year low in September according to Reuters and Bloomberg, both quoting un-named "government sources" for the data.
"Everything is affecting consumers' sentiment," says N.Anantha Padmanaban, chair of the All India Gem & Jewellery Domestic Council, pointing to India's slowing economic growth as well as costly gold prices.
Seeking to deter gold imports further – and so reduce non-mining nation India's current account deficit with the rest of the world – the Government will
issue gold-tracking bonds
twice this month, paying 2.5% annual interest with no capital gains tax.
In neighboring Nepal, "sales have gone up by only 10%, which is
low for the period
," says Tej Ratna Shakya, former president of the country's bullion dealers' association, of this week's Dashain festival.
In contrast, inflows to Western gold-investment trusts backed by gold have risen yet again this week according to data compiled by the mining-industry backed World Gold Council.
ETFs add gold for 14th straight day yesterday (bloomberg data)… Physical markets had v little to do with the mid-week support for gold; we saw the Indian discount narrow from -48 usd to around -24 usd... Takeaway: very much an investor led move higher again. pic.twitter.com/VrsQzVi5AY

— Jaspar Crawley (@JGCCrawley) October 4, 2019
The VIX volatility index – sometimes called the 'fear index' as it tracks the size and speed of swings in US stock-market betting – has edged lower this week after coming into October at its highest monthly level since last December's crash in global equities.
Like the Dollar gold price, bullion for Euro investors fell back in London on Friday, trading at €1367 per ounce.
UK gold prices also neared the weekend unchanged from last Friday's finish, trading at £1219 as senior figures in the European Union said they are
"open to but unconvinced by"
Prime Minister Boris Johnson's proposed alternative to the Irish back-stop for resolving a deal on Brexit.
Documents submitted to a Scottish court say Johnson has said he will
seek an extension to Article 50
– delaying the UK's exit from the European Union beyond the current Halloween deadline – should Brussels, Westminster and the other 27 EU member states fail to agree a deal.