Gold Price Halts Slide, Silver Bounces, as Comex Speculators Grow Bearish Bets Ahead of Trump-Biden Debate
Monday, 9/28/2020 14:54
GOLD PRICES moved into positive territory on Monday as the US Dollar fell, stock markets rose and pundits looked ahead to tomorrow's Trump-Biden debate as Democrats attacked the President over his personal tax returns, writes Atsuko Whitehouse at BullionVault.
The Dollar Index – a measure of the US currency's value versus its major peers – dipped from 2 months high recorded last session.
Spot gold prices rallied 0.3% to $1866 per ounce after losing 4.5% last week to a 2-month low.
"With the first US Presidential debate scheduled tomorrow, Brexit negotiations over the week and the Non-Farm Payroll due on Friday, the markets are likely to remain very cautious and large-scale positioning is unlikely at least until the first debate is out of the way," says the latest daily gold-price and precious metals note from Rhona O'Connell at brokerage Stone X Group Inc.
Both the SPDR Gold Trust (NYSEArca: GLD) and iShares Gold product (NYSEArca: IAU) shrank a little on Friday, but the world's 2 largest
gold-backed ETFs
still showed net investor inflows for the week as a whole.
Latest data from the Comex futures and options market meantime show that hedge funds and other leveraged speculators cut their bullish betting to the smallest in 3 weeks on gold as a group in the week-ending 22nd September, while increasing their bearish betting to the biggest in 15 months.
Overall, that pushed the net long position of Managed Money traders down 21% to the smallest in 3 months.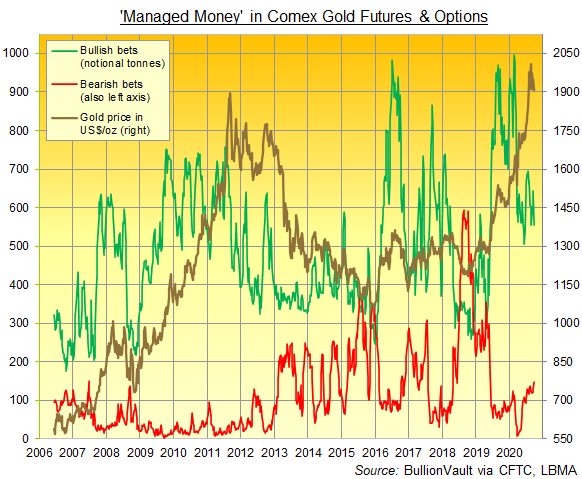 Speculators also reduced their net bullish betting on silver to the smallest in 5 weeks according to the data published by US regulator the Commodities Futures Trading Commission (CFTC), and that group slashed its net long position on platinum prices to the smallest in 14 months.
Silver like gold prices recovered a small loss as the start of New York trading approached on Monday, gaining 0.7% to $23.05 per ounce after dropping 14.6% last week to 2-month lows.
The strength of silver pushed back the Gold/Silver Ratio – which tracks the two formerly monetary metals' relative prices – down to just under 81, sharply lower from the new all-time high of 125 hit on March's Covid-19 Crisis but also markedly higher from this month's earlier reading of 70, the lowest price for gold in terms of silver for 3 years.
Platinum prices today rose faster, increasing 2.2% to $866 and recovering some of last week's 9% loss to ease the discount vs. gold to less than $1000 per ounce.
Like gold prices European stock markets rallied from last week's hefty losses, with pundits pointing to upbeat industrial profits data from China and a rebound in banking stocks after China's Ping An insurance company announced a heavy investment in UK-listed HSBC (LON: HSBA) at last week's 25-year lows.
On Sunday, the
New York Times reported
that President Donald Trump paid just $750 in federal income taxes in both 2016 and 2017, using heavy losses reported from his business empire to offset hundreds of millions in earnings.
"Actually, I paid tax," said the reality TV star and real-estate mogul, dismissing the claims as "fake news".
"You'll see that as soon as my tax returns –
it's under audit
, they've been under audit for a long time."
Gold prices for UK investors today dropped to mid-July levels, down 0.7% at £1450 per ounce, as Sterling rallied amid news reports claiming both London and Brussels' negotiators remain optimistic that some kind of a Brexit deal will be struck this week, before mid-October's crucial EU summit and then end-December's end to the transition period.
Euro gold prices also struggled to rise as the single currency outpaced the metal vs. the weakening Dollar, edging 0.1% lower to €1599 per ounce ahead of European Central Bank president Christine Lagarde making a speech to the European Parliament.