Gold Prices Drop Below $1500 as Bond Yields Tick Higher, 'Bullish' on Negative-Yield Mountain
Friday, 9/27/2019 10:28
GOLD PRICES fell below $1500 per ounce in Asian and London trade Friday, erasing half of last week's 1.9% gain as crude oil steadied and world stock markets recovered this week's earlier drop.
Silver fell harder, erasing all of last week's rise to trade back at $17.55 – like gold prices, slightly down for September so far, as were
platinum prices
at $928 per ounce.
The price of major government bonds also edged lower, pushing up the rate of interest offered by 10-year German debt to -0.58% while 10-year Treasuries offered 1.70% per annum, both little changed for the week.
Dollar gold prices have now lost 4.0% from their highest since spring 2013, hit at the start of this month, as 10-year US Treasury yields have risen from their lowest since mid-2016 at 1.47%.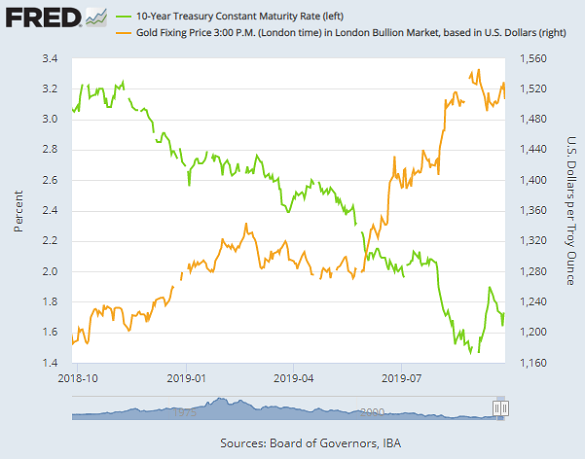 "Gold is sensitive to real rates historically," said bullion-bank HSBC's chief precious metals analyst Jim Steel to CNBC on Thursday, pointing to how gold prices have
tended to move opposite
to the rate of return paid to cash or bonds after accounting for inflation.
"If real rates were to rise,"
said Steel
– "they don't look as if they're going to, we [predict] 1.5% on the 10-year at the end of this year – but if they were to rise then, especially where we're currently seeing negative yields, that would be negative for gold without a doubt."
Gold's "underlying macro drivers" remain intact, agrees Asian bank and London bullion market-maker Standard Chartered's Suki Cooper, speaking on a webinar for members of the London Bullion Market Association on Thursday.
While Cooper sees the Dollar strengthening into year-end, gold will stabilize and then "continue to rally," she believe, "particularly because of the growing mountain of negative-yielding government debt."
The
UK gold price in Pounds per ounce
showed a small gain for the week at £1219 amid worsening political wrangling over Brexit and accusations the Government of Boris Johnson risks encouraging violence against pro-Remain figures by using inflammatory language.
Meantime in No.2 gold consumer nation India - where the Modi BJP Government's 2019 Budget raised import duty on legal gold inflows to 12.5% - customs police
today said they caught a man
trying to carry almost 28 ounces of gold (worth $42,400) through Delhi's IGI airport in the latest seizure of smuggled gold.
With India's gold-refining sector continuing to suffer massive over-capacity, and industry watchers concerned it is attracting inflows of illegally-mined gold from around the world, police in Bengaluru this week seized almost 100 ounces of small gold bars
stamped to fake the brand markings
of leading manufacturer MMTC Pamp.