Gold Prices Gain as GLD Expands, Germany's Economy Contracts, UK Joins US in Blaming Iran for Saudi Attacks
Monday, 9/23/2019 14:22
GOLD PRICES edged higher on Monday after the giant GLD gold ETF reached its largest size in 3 years and new data showed Germany's economy shrinking for the first time since 2013, writes Atsuko Whitehouse at BullionVault.
After rising 1.1% on Friday – when US equities recorded their first weekly decline in a month and China cancelled official visits to US farms as part of trade negotiations – spot gold prices today edged up 0.2% to $1519 per ounce in London this morning.
Gold prices for European investors rose twice as fast, breaking above €1380 – a record high when first reached in late-August – as the single currency and European stock markets fell.
September has seen private-sector activity in Germany, the world's 4th largest national economy, shrink for the first time in 6.5 years according to the Markit data consultancy's first flash PMI survey.
Tracking both the manufacturing and services sectors, Markit's PMI for Germany has fallen to 49.1 from 51.7 in August, signalling contraction.
Manufacturing activity has plunged to 41.4, the lowest level in more than 10 years.
The giant SPDR Gold Trust (NYSEArca: GLD) closed Friday 1.2% larger from the previous session, expanding 2.2% week-on-week and reaching early September's 3-year high for the number of shares in issue.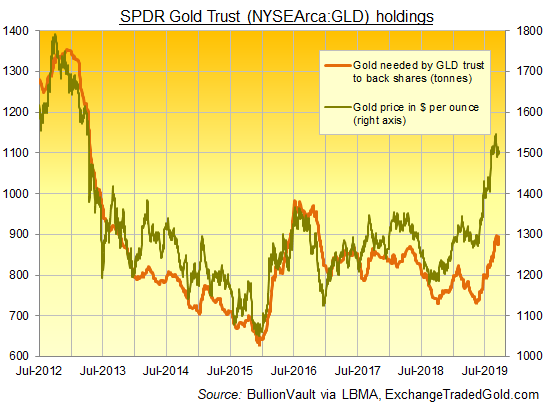 "The pickup in geopolitical risk from Saudi Arabia and President Trump rejecting the possibility of a partial trade deal with China certainly
adds that little more shine
to gold," said Howie Lee, economist at OCBC Bank in Singapore.
The more industrial precious metals also rose Monday however, with silver up 2.3% to $18.40 per ounce and platinum adding 1.2% to $957 per ounce by lunchtime in London.
Palladium set a new record high at $1659 per ounce earlier in the session.
US President Donald Trump said at the weekend he
does not need to secure a deal
with China to end the trade war before the 2020 election, saying he will not settle for a "narrow" agreement.
Oil prices meantime surged more than 1%, when the market opened before losing the gain amid debate over how fast Saudi Arabia can restore its full output following last week's drone attacks on key facilities.
Blaming Iran for the strikes, Washington on Friday imposed "the highest sanctions ever" on Tehran according to Trump, and the Pentagon has ordered additional US troops to be deployed in the Gulf region.
UK Prime Minister Boris Johnson also joined in "attributing responsibility with a very high degree of probability to Iran for the Aramco attacks."
Gold prices for UK investors rose 0.5% to £1219 per ounce on Monday while UK stock markets fell less significantly than Eurozone bourses, with low-cost airlines Ryanair and easyJet surging in price on expectations of tighter capacity in the market following the collapse of tour operator Thomas Cook.