Gold Prices Fall 2nd Week Running Despite 'Draghila's Attack' on Euro Savers
Friday, 9/13/2019 14:49
GOLD PRICES failed for the 3rd time since Monday to hold above $1500 in London trade on Friday, heading for a second weekly drop in terms of most major currencies as world stock markets continued to rise following the European Central Bank's bigger-than-expected easing of monetary policy.
So far in September only the Japanese Yen has lost value against gold, with the US Dollar pushing bullion down 1.3% and the gold price in British Pounds losing 3.5% amid rumors that a new Brexit deal – acceptable to the European Union and the UK Parliament –
may be possible
.
Priced in the single Euro currency, gold headed Friday for a €10 weekly loss at €1354 per ounce, down almost 3% from yesterday's spike on the ECB's decision – the last meeting led by former Banca d'Italia chief and Goldman Sachs vice-chairman Mario Draghi.
"Very quiet in Asia today with SGE closed," says a gold trading note from Swiss refiners MKS Pamp's trading team in Sydney, pointing to today's mid-autumn holiday in China, the world's largest gold-consumer nation.
"Gold tested $1500 early with no luck...after the initial surge in reaction to the ECB announcement came off on headlines that the US were considering an interim trade deal with China to delay tariffs."
Because the ECB's easing was "more aggressive than expected," says Rhona O'Connell, now Head of Market Analysis at brokerage INTL FCStone, "gold should in theory benefit.
"But we expect range trading for now, at least until the Bank of Japan and the FOMC have released their policies" on Thursday and Wednesday next week respectively.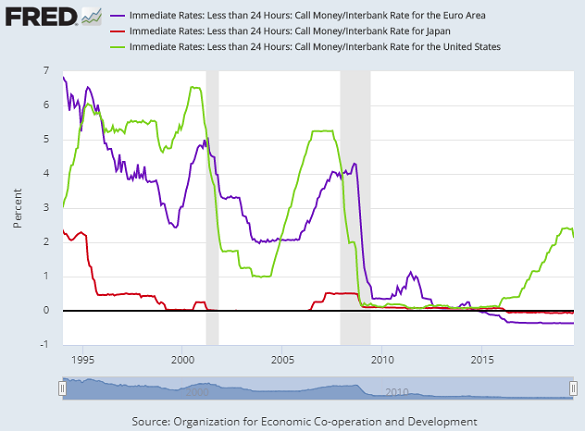 The Bank of Japan "may [also] hold fire" reckons a story on Reuters, keeping its current QE and negative rates unchanged because Tokyo policymakers "want to keep their powder dry for as long as possible in case Japan's economy runs into greater trouble."
European Central Bank, acting quickly, Cuts Rates 10 Basis Points. They are trying, and succeeding, in depreciating the Euro against the VERY strong Dollar, hurting U.S. exports.... And the Fed sits, and sits, and sits. They get paid to borrow money, while we are paying interest!

— Donald J. Trump (@realDonaldTrump) September 12, 2019
Rejecting Trump's claim
that the ECB is trying to weaken the Euro to gain export-market share worldwide, Draghi on Thursday announced €20 billion per month of new quantitative easing and raised the charge for commercial banks leaving money at the ECB instead of lending it out to 0.5% per annum.
Also revealing a widely expected "tiering" of negative rates, set to boost profits at Germany's ailing Deutsche Bank by some 10%, Draghi's parting shot as head of the world's No.2 central bank also saw him tell Eurozone governments that "Now is the time for fiscal policy to take charge" – urging tax cuts and greater spending – to stimulate economic growth across the 19-nation currency union.
No.2 Eurozone economy France today saw trains in the center of Paris brought to a standstill by the biggest strike from transport workers for 12 years, protesting against President Macron's attempt to raise their retirement age from 52 for RATP metro staff – a full decade younger than most public-sector staff.
While gold priced in Euros ran to fresh all-time record highs this summer, the volume of gold needed to back the value of German-listed gold ETF trust funds grew almost 5% from the end of May to end-August, swelling to 327 tonnes.
That was more than 3 times the size of German
gold-backed ETFs
at the prior Euro gold price peak of September 2012, shortly after Draghi vowed to do
"whatever it takes"
to preserve the single currency union, since expanded to 19 member nations.