Gold Prices Fail to Rally as Traders 'Lack Direction' Ahead of Fed, ECB, UK Election, Impeachment and Tariff Deadline
Monday, 12/09/2019 15:21
GOLD PRICES rallied weakly from Friday's slump on Monday in London, regaining just 0.2% ahead of a busy week with US and Eurozone central bank meetings, continued US impeachment hearings over President Trump, the UK general election, and the looming US-China tariff deadline, writes Atsuko Whitehouse at BullionVault.
Spot gold prices reached just $1463 per ounce, down more than $20 from last Wednesday's 4-week high, as European stock markets failed to follow Asian equities higher.
Oil prices also fell on Monday, snapping a strong run fuelled by
Saudi Arabia leading the Opec oil cartel
and other producer nations in curbing output, after China's trade data for November showed the 4th month of contraction in imports and exports from the world's second-largest economy.
"Traders are unable to take a direction due to [this week's] upcoming events," reckons Hareesh V. at Indian brokerage Geojit Financial Services, adding that a weaker Dollar helped gold prices to steady on Monday.
Friday's price drop in gold – made after the US government
estimated strong growth
in November payrolls – saw investors liquidate 0.3% of the giant SPDR Gold Trust (NYSEArca: GLD), shrinking the largest
gold-backed ETF
's shares in issue to the lowest in 3 months.
The week-ending last Tuesday, in contrast, saw hedge funds and other leveraged speculators in Comex gold futures and options increase their
bullish betting as a group
and cut their bearish bets.
Net of bearish bets, that saw the Managed Money's long position rose by one-tenth to the notional equivalent of 705 tonnes, the most in 4 weeks and only 22% below September's new all-time record.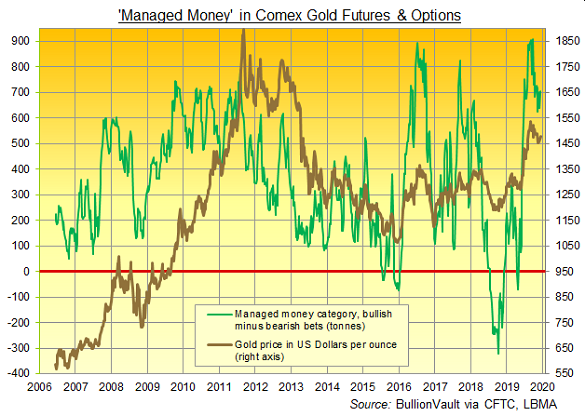 Betting on US interest-rate futures currently shows 99.3% of traders believe US interest rates will stay where they are when the US Federal Reserve announces its latest interest-trate policy and gives its 2020 economic forecasts on Wednesday.
The other 0.7% of bets are banking on a Fed rate rise.
Silver prices today held near Friday's new 4-month lows, managing to touch $16.64 per ounce and show a drop of 3.9% from last week's 1-month peak.
Platinum also rallied 0.3% Monday, reaching $899 per ounce and down 2.9% from last week's top.
Gold prices for European investors held flat meantime Monday at €1320 per ounce ahead of former IMF chief Christine Lagarde chairing her first European Central Bank policy meeting on Thursday.
The UK will go to the polls that day, choosing between Conservative Prime Minister Boris Johnson's mantra of "Get Brexit done" against the opposition Labour Party's
most left-wing manifesto
since 1983 if not before.
With bookmakers now pricing a Conservative victory as a dead-cert, UK gold prices today held flat at £1111 per ounce as Sterling hit a seven-month high against the Dollar and a 2.5-year peak versus the Euro.
Impeachment hearings against President Trump were today interrupted by a protester shouting "Treason!" as Democrat lawmakers pursue accusations that the Republican President tried and then lied about asking President Volodymyr Zelensky of Ukraine to investigate Democrat 2020 presidential hopeful Joe Biden in return for military aid.
Former comedian
Zelensky today met Russia's Vlad Putin
to discuss resolving the continued conflict in eastern Ukraine between domestic forces and Moscow-backed separatists starting when Russia annexed Crimea in 2014.