Gold Price Gains in UK Pounds as Brexit Talks Hit New Crisis, Euro Rates Decision Weighs
Monday, 9/07/2020 15:34
GOLD PRICES slipped against a rising US Dollar Monday in London as the British Pound fell amid a new crisis in the UK's Brexit negotiations, and traders looked ahead to this week's monetary policy decision from the 19-nation European Central Bank, writes Atsuko Whitehouse at BullionVault.
With US markets closed for Labor Day, spot gold prices for bullion delivered in London declined 0.4% to $1926 per ounce after dropping over 2% last week, when better-than-expected monthly US employment data helped to strengthen the Dollar.
The US Dollar Index – a measure of the US currency's value versus its major peers – continued to strengthen on Monday, while the Pound weakened as much as 0.6% on the FX market amid news that the Government of pro-Brexit campaigner Boris Johnson will rip up the Withdrawal Agreement it already approved unless the European Union gives ground on a new trade deal ahead of the UK's transition period for leaving the EU ending in December.
The live gold price in Pounds per ounce
for UK investors gained 0.6% to £1465, a record high when first reached on 22 July but still over 7% below the current all-time high of £1578 hit on 6 August.
"If we can't agree by October 15," the Prime Minister's office said, "I do not see that there will be a free trade agreement between us, and we should both accept that and move on."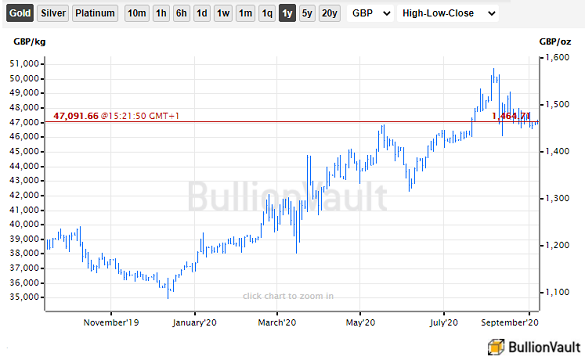 The next Brexit negotiating round begins with face-to-face discussions between the UK and the EU in London on Tuesday.
Gold prices for European investors edged down by 0.1% to €1632 per ounce, while European shares bounced after last week's Wall Street-led rout in technology stocks.
With consumer prices across the 19-nation Eurozone slipping into deflation in August, US Federal Reserve Chair Jerome Powell on Friday said Dollar rates will stay low for "however long it takes.
"We do think it will get harder from here," Powell told National Public Radio in an interview on Friday after the US jobs report for August.
Latest data meantime show that hedge funds and other leveraged speculators in Comex gold futures and options cut their bearish betting on gold as a group in the week-ending 1st September, and increased their bullish betting.
Overall, that pushed the net long position of Managed Money traders up by 9%, with only the second weekly growth since gold prices broke to new highs above the 2011 peak at $1920 in late July.
Compared to the record peak of September 2019, the net speculative long position of Managed Money traders has almost halved.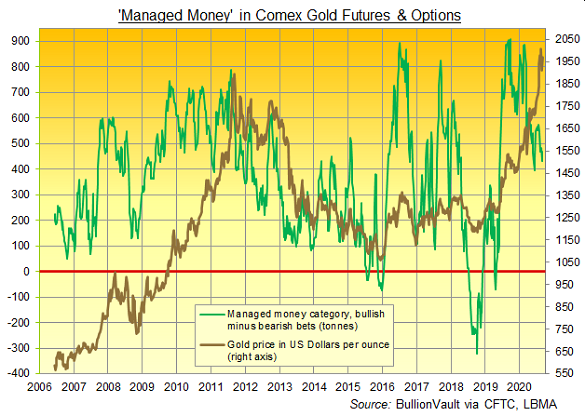 Speculators also raised their net bullish betting on silver by 0.4% last week, adding for 3 weeks in a row to the highest since late July according to the data published since 2006 by US regulator the Commodities Futures Trading Commission (CFTC).
Silver bullion dipped 0.3% on Monday to $26.85 per ounce after also declining 2% last week alongside gold prices.
The Gold/Silver Ratio
– which tracks the two formerly monetary metals' relative prices – steadied above 71, the 3-year low for gold versus silver reached last month.
Platinum today dropped 0.5% but held above $900 per ounce, a level breached briefly last week as speculators in Nymex futures and options cut their net bullish betting by 17% to the lowest in 7 weeks against.