Gold Price Tries $1500 Again as Trump Blames Fed for Strong Dollar
Tuesday, 8/20/2019 13:52
GOLD PRICES edged back above $1500 per ounce in London trade Tuesday, recovering what was a new 6-year high just 2 weeks ago as world stock markets slipped from yesterday's bounce and the US Dollar rose yet again on the currency market.
"We've been skeptical that Fed easing by itself would doom the Dollar," Bloomberg quotes currency strategist John Velis at Bank of New York Mellon.
"Other central banks [are] expected to ease by as much or even more than the Fed...[meaning a] lack of downward force on the Dollar from policy expectations."
Consumer-price inflation across the 19-nation Eurozone slowed last month to just 1.0% new data said Monday – the weakest pace since November 2016, when the European Central Bank responded by
extending its program of QE
money-creation and asset purchases.
"Global conditions are weak," said Federal Reserve member Eric Rosengren of the Boston Fed on Monday, "[but] I
just want to see evidence
that we are actually going into something that's more of a slowdown [before voting to cut rates]."
Lower rates "could worsen the next downturn" Rosengren told Bloomberg, because it would "leave the Fed with little ammunition."
The Dollar last night rose to fresh 2019 highs on Bloomberg's measure of the currency, strength blamed yet again on the Fed by US President Donald Trump.
Our Economy is very strong, despite the horrendous lack of vision by Jay Powell and the Fed, but the Democrats are trying to "will" the Economy to be bad for purposes of the 2020 Election. Very Selfish! Our dollar is so strong that it is sadly hurting other parts of the world...

— Donald J. Trump (@realDonaldTrump) August 19, 2019
Adjusted by the US Fed's own Dollar Index, the price of gold outside the world's No.1 reserve currency closed last week at a record high of $1717 per ounce, some $200 higher than the metal's USD price.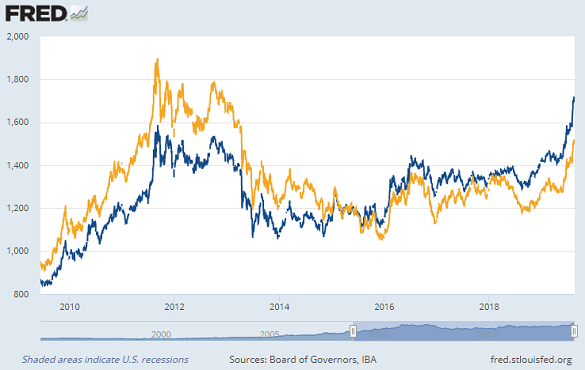 Betting on Fed rates
now puts the likelihood of a 1/4-point cut at 95% for the September meeting, according to data from the CME derivatives exchange, up from 60% this time last month as betting on a 1/2-point cut has shrunk.
Betting on December's meeting is however now more dovish, with nearly half of all speculative positions forecasting Fed rates of 1.5% or low by year's end – more than double the proportion at this time in July.
"Gold is backing and filling," said Monday's precious metals note from brokerage INTL FC Stone's Rhona O'Connell, pointing to last week's small cut to bullish speculative bets on US Comex gold derivatives as the cause for gold's drop from $1535.
The
UK gold price in Pounds per ounce
meantime rose back towards the last 2 weeks' closing level of £1245 – an all-time record when first reached in early August – as Sterling fell after European Council president Donald Tusk rejected new UK prime minister Boris Johnson's latest demand to
delete the Irish back-stop
from the EU withdrawal agreement reached with his predecesor Theresa May but rejected 3 times by the London parliament.
Britain's Foreign Office also said it's concerned about the welfare of a colleague from the UK's Hong Kong consulate, now missing since 8 August after failing to return from the Chinese mainland.
With weekend protests against Beijing's control of the city-state now running for 11 weeks, China's Yuan today fell to new 11-year lows of ¥7.065 against the Dollar.
The Euro currency also fell against the Dollar, driving the gold price for French, German and Italian investors back up to €1360 per ounce – less than 2% below its all-time record high of September 2012.