Gold Price Erases 1.6% Loss for UK Investors as BoE Sinks Sterling
Thursday, 8/03/2017 14:13
GOLD PRICE losses of $10 per ounce for this week so far were almost entirely erased in London trade Thursday lunchtime, taking the metal back up to $1268 as global interest rates eased back and crude oil edged higher once more.
The
UK gold price in Pounds per ounce
meantime jumped to £965, reversing almost all the week's previous 1.6% drop as Sterling sank on the FX market after the Bank of England announced that its Monetary Policy Committee voted 7-2 to hold the UK's key interest rate at an all-time record low of 0.25%.
Out of 328 central-bank policy decisions made worldwide so far in 2017, only 73 have seen a change to interest rates.
Excluding the US Fed and its impact on Dollar-tracking authorities such as Qatar and Hong Kong, only 6 hikes were made, with 46 decisions to cut.
Across the same number of decisions in the last 7 months of 2016, 60 changes were made, with a total of 27 hikes and 33 cuts.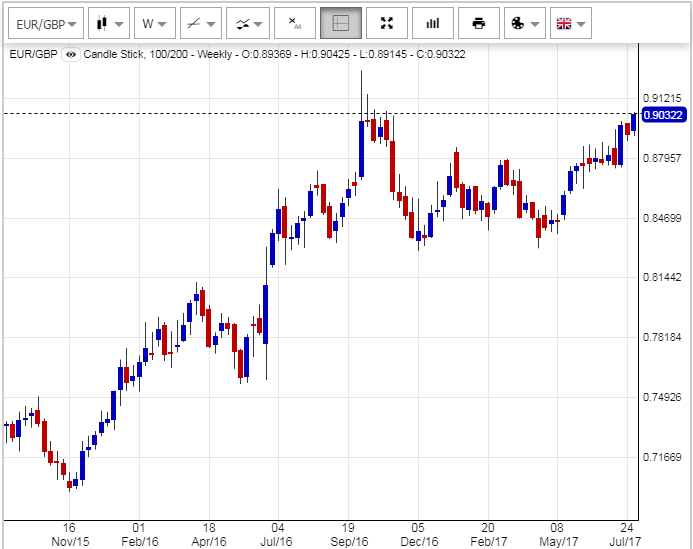 External Bank of England members Ian McCafferty and Michael Saunders – both private-sector economists – today both voted to raise rates for the second month running.
Despite forecasting today that UK consumer-price inflation – already above its 2% target in June at 2.6% per year – will "
rise further in coming months
and...peak around 3% in October," the Bank's MPC also voted unanimously to keep its QE holdings of government debt at £435 billion, and also to boost its Term Funding Scheme by the extra £15bn alloted to it by the Treasury before it ends as planned next February.
"This scheme was announced last August [and] supports consumer borrowing by lowering the cost of debt...in the wake of the Brexit vote,"
explains the Financial Times
.
Thursday's fresh drop in the British Pound saw London's FTSE100 share index of mostly global corporations rise by 0.7%, bucking weakness across Asian and European equities.
Gold priced in the single-currency Euro meantime bounced off new 3-week lows hit overnight but held 1.2% down for the week so far at €1067 per ounce.