Gold Prices Dip with Stock Market as Trump Attacks 'Cranks', Italy's Coalition 'Shows Cracks', Turkey Deploys Russian Missile System
Wednesday, 7/17/2019 13:46
GOLD PRICES again rallied from a dip near $1400 per ounce in London trade Wednesday, recovering from a 1-week low as world stock markets slipped and Western government bond yields eased back.
After Wall Street failed to set a third new record high in succession on Tuesday, Asian and European equities edged 0.4% lower on average.
With gold prices at $951 per ounce 10 years ago, the S&P500 index traded at 952.
Since the US stock market has risen 216% while gold today traded 48% higher.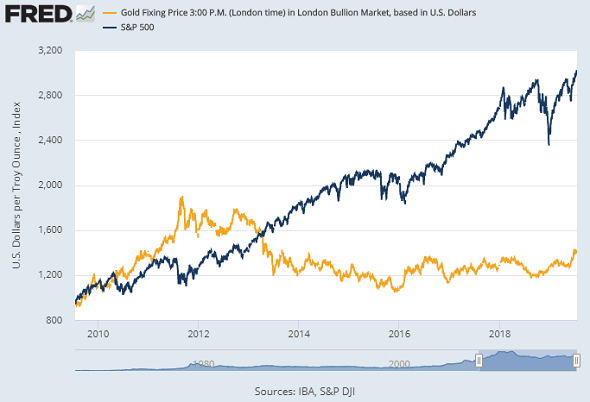 Trump meantime continued to tweet against the "squad" of four Democrat women of color he began attacking last week, praising his Republican Party colleagues for backing him in yesterday's vote in Washington censuring the President's comments as racist – "the
first House rebuke of a president in more than 100 years
," according to the
New York Times
, "passed nearly along party lines, 240 to 187."
...opinion, they're Americans. Now I'm entitled to my opinion, & I just think they're left wing cranks. They're the reason there are directions on a shampoo bottle, & we should ignore them. The "squad" has moved the Democrat Party substantially LEFT, and.....

— Donald J. Trump (@realDonaldTrump) July 17, 2019
"With a currency war most likely to be fought on USD/CNY and EUR/USD terrain," says a note from former London bullion market-maker and fixing member Deutsche Bank, "one approach would be to steer clear of the direct conflict.
"By far the most direct and simple way to trade the complexities of a currency war is by going long gold."
Betting on this month's Fed policy meeting now sees a 1-in-3 chance that Jerome Powell's team will cut interest rates by 0.50 points, while twice as much speculation sees only a quarter-point cut on 31 July.
Euro gold prices today held above €1250 per ounce, trading 86% higher from this point in 2009, while Italy's borrowing costs meantime held near yesterday's 14-month lows compared to Germany's costs, with the
spread of 10-year BTP over Bund yields
trading at 1.85 percentage points.
That's sharply down from end-May's 3.0% spread, hit just before European Central Bank chief Mario Draghi said the 19-nation Eurozone is
ready to re-start quantitative easing
, creating central-bank money to buy government bonds and lend to commercial banks.
Italy's "yellow-green" coalition of anti-establishment M5s and right-wing Lega parties is showing "many cracks" says
Il Sole 24 Ore
, reporting that
"tensions are multiplying"
over the government's flat tax plans, its budget deficit wrangling with Brussels, and now also accusations that Lega leader Matteo Salvini took campaign financing from Moscow in the
so-called "Russiagate" scandal
.
The banks do not, however, say how much gold they bought back from investors re-selling gold bars.
British investors have seen the gold price in Pound terms rise 103% since July 2009.