Gold Prices Rally as Fed Still Set to Cut Rates, Poland Adds 100 Tonnes, China Buys 7th Month Running
Monday, 7/08/2019 14:37
GOLD PRICES rallied on Monday after plunging on last week's US jobs data as President Trump warned Iran it 'better be careful' over its nuclear research and China followed the shock announcement over Poland's gold reserves by saying it has bought bullion 7 months in a row, writes Atsuko Whitehouse at BullionVault.
Gold prices rallied 0.4% to $1405 per ounce after falling well over 1% in Friday's trade after the
official US jobs estimate for June
came in much stronger than expected.
The Dollar index edged lower Monday lunchtime after jumping to reach 2-week highs.
Ten-year US Treasury yields also eased back, falling 2.03% on Monday after soaring on Friday.
"Despite the strong jobs numbers, the market is expecting a rate cut [at end-July's Fed meeting], just not as aggressive it would have been," Reuters quotes Howie Lee, an economist at OCBC Bank in Singapore.
"Growth still remains weak globally and we have geo-political tension between the US and Iran. Overall factors are still supportive for higher gold prices.
"$1400 is a pretty strong support level."
While speculation on the Fed's July meeting now sees little chance of a half-point cut – down from one-fifth of betting prior to Friday's jobs data – the vast bulk of betting on December's meeting still sees 2 or more cuts from the current 2.50% ceiling by New Year 2020 according to
data compiled by the CME derivatives exchange
.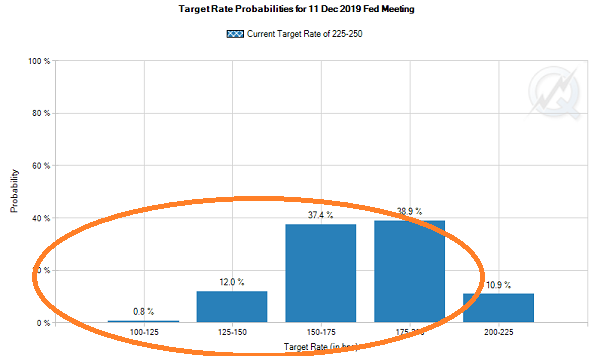 Oil prices meantime rallied with gold prices on Monday as tensions around Iran's nuclear program continued to worsen.
Tehran said on Sunday it will soon boost its uranium enrichment above a limit set by its 2015 nuclear deal with the EU and US, from which President Trump has already pulled the US.
The People's Bank of China meantime said Monday it raised its gold bullion reserves for a seventh month in June, adding 10.3 tonnes, following the inflow of almost 74 tonnes in the six months through May.
Gold prices for European investors edged 0.4% higher to €1252 per ounce as European shares edged lower, with German financial services giant Deutsche Bank falling over 2% as it confirmed the loss of 18,000 jobs globally.
The yield on Greece's benchmark 10-year debt meantime touched a new record low Monday morning after Greece's center-right party regained power in a sweeping general election victory on Sunday against former anti-EU leader Alexander Tsipras.
Gold prices for UK investors
also rose 0.4%, reaching £1122 per ounce as the government began an inquiry into the leak of emails from London's ambassador to Washington in which he called the Trump White House "uniquely dysfunctional" and "divided".
Meantime in Turkey – the 5th largest private gold-buying nation – the Lira sank on the FX market after President Recep Tayyip Erdogan sacked the country's central bank governor for failing to cut interest rates, promoting his deputy despite widespread accusations that
he plagiarized his entire Master's degree thesis
.