Gold Price Slips vs. Falling Dollar as Oil Bounces, Bank of England Split Boosts 'Brexit-Hit' Pound
Wednesday, 6/21/2017 14:10
GOLD PRICES held near 5-week lows against a falling US Dollar on Wednesday, trading at $1243 per ounce as commodities rallied but world stock markets extended Tuesday's retreat in New York.
As Brent crude oil rallied $1 per barrel from yesterday's 7-month lows near $45, that pulled the EuroStoxx 50 index of major European shares more than 1% lower.
The British Pound meantime rallied after a split emerged amongst senior Bank of England policymakers over holding or raising UK interest rates from the current all-time record low of 0.25% with £435 billion ($550bn) of
quantitative easing
bond purchases.
The Euro currency also rallied against the Dollar, but held 1 cent below last week's peak, the highest level since Donald Trump won the US presidential election last November.
The gold price for Eurozone investors fell below €1115 per ounce, near its lowest level since January.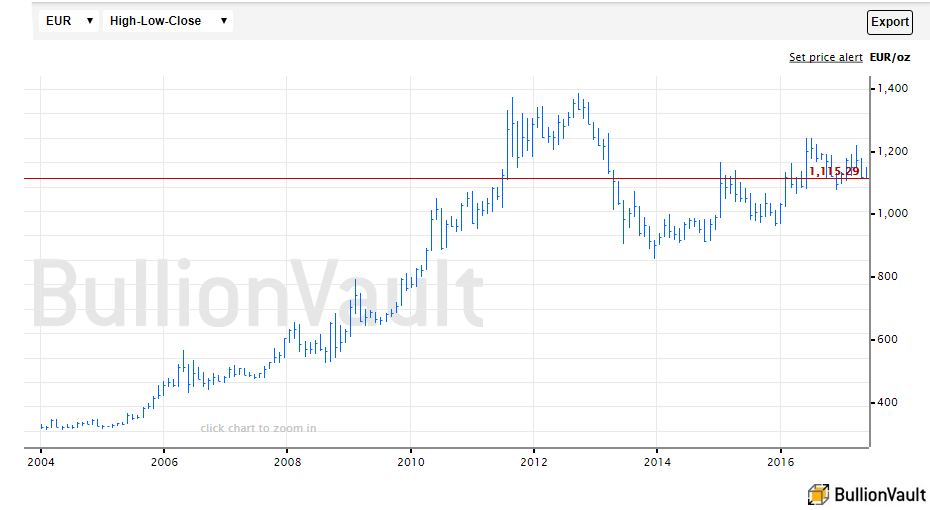 With next year's Queen's Speech already cancelled due to the time needed to process these latest proposals, eight of the 24 bills named today deal exclusively with Brexit, aiming for what Her Majesty called a "smooth and orderly" departure from the European Union.
"Since the prospect of Brexit emerged," said Bank of England Governor Mark Carney in his annual Mansion Speech this week – published late Tuesday – "financial markets, notably Sterling, have marked down the UK's economic prospects."
The Pound Sterling fell to new 2-month lows following the release of Carney's speech.
"Monetary policy cannot prevent the weaker real income growth likely to accompany the transition," Carney said. "But it can...support the economy during this transition.
"Stimulus is working."
"Provided the data are still on track," countered the Bank's chief economist Andrew Haldane today, "I do think that beginning the process of withdrawing some of the incremental stimulus provided last August would be prudent moving into the second half of the year.
"It will be a sign of the economy itself having begun to normalise."
Amongst 18 charts in Haldane's presentation at the National Science and Media Museum in Bradford, one shows each of the Bank's quarterly Inflation Reports since 2011 over-estimating the pace of average UK wage growth in 2015 and beyond.
The Pound recovered half of this week's previous 2 cent drop, rallying to $1.27 and knocking the gold price in Sterling back £10 to £979 per ounce.