Bad US Jobs 'Miss' Sees Gold Price Hit 4-Month High, G20 Split by US-China But United on FANGs Tax
Friday, 6/07/2019 14:05
GOLD PRICES jumped to new 4-month highs against a falling Dollar on Friday as June's US jobs figure missed Wall Street forecasts by 60%.
Instead of adding 185,000 as analysts expected, US non-farm payrolls expanded by just 75,000 last month, the Department of Labor said.
Wednesday's private-sector ADP estimate already said June's jobs growth was much weaker than predicted.
The Dollar spiked down on the news, hitting 11-week lows against the Euro.
Gold prices jumped to $1344 per ounce, just $3 shy of February's 10-month peak.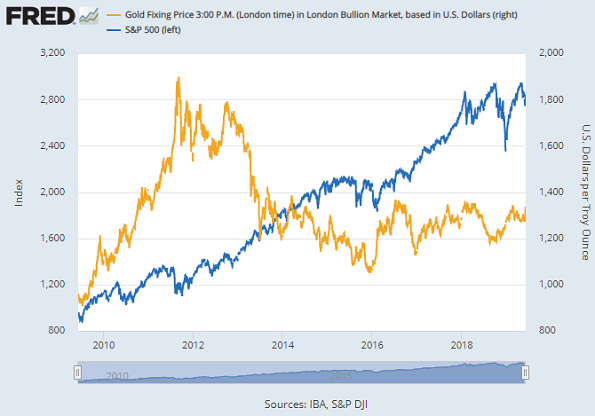 With leaders from the G20 group of major economies meeting this weekend in Fukuoka, Japan, "All eyes will be on" US Treasury Secretary Steve Mnuchin's meeting with China's central-bank chief Yi Gang, reckons the New York Times.
"Tension is rising with tariff increases and nontariff measures materializing in many parts of the world," says Japan's finance minister Taro Aso.
A draft of Sunday's G20 communique, seen by Kyodo News, meantime says the meeting will bring "cooperation for a globally fair, sustainable, and modern international tax system" targeting large tech companies operating worldwide.
New York's FANG+ index
of Facebook, Amazon, Netflix, Google and other major tech stocks rallied Thursday but remains over 16% lower from 5 weeks ago.
Vowing to push for a global tax crackdown on firms like Amazon and Google, "[I'll be] showcasing
how we're embracing the new economy
," claims UK finance minister Philip Hammond.
The gold price in Sterling today held 1.8% higher from last Friday, heading for its highest weekly close since March 2013 at £1052 per ounce, as Prime Minister Theresa May stood down as Conservative Party leader, with
Boris Johnson
widely expected to take both jobs later this summer.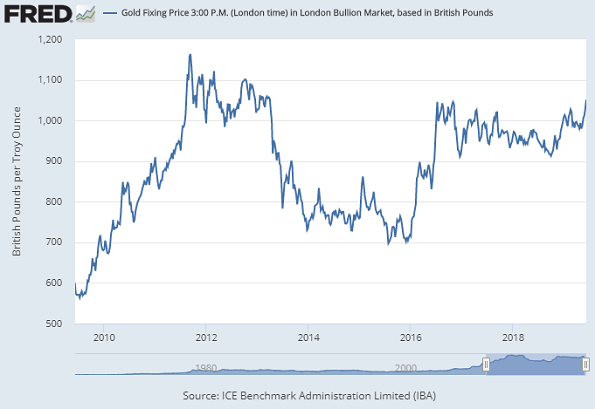 Prior to the US jobs data, copper prices headed for their 1st weekly gain in 8, and crude oil rose for a second day from this week's new 4-month lows, edging above $62 per barrel of Brent.
That still left crude oil holding a 16% drop from April's peak.
The world's largest gold ETF, the SPDR trust (NYSEArca: GLD), yesterday held unchanged in size after seeing a small outflow Wednesday, while New York's No.2 – the iShares product (NYSEArca: IAU) – shrank by 0.4% as investors sold out.
With the Euro rising above $1.13 on Friday's US jobs 'miss', the gold price for German, French and Italian investors held shy of this week's 26-month highs at €1190 per ounce.
Silver prices
meantime matched gold's 2.7% weekly rise in US Dollar terms, peaking through $15 for the second time since February.