China's Gold Price Benchmark Hits Record High as US Fed Vows to 'Sustain Expansion'
Wednesday, 6/05/2019 14:27
GOLD PRICES rose within $3 of a 13-month high in London trade Wednesday, rising as the Dollar fell and world stock markets struggled despite yestersday's 'dovish' comments on US interest rates from the Federal Reserve.
Tuesday saw the MSCI World Index make its sharpest 1-day gain since New Year, adding 1.4% after Fed chairman Jerome Powell said the US central bank will "act as appropriate to
sustain the expansion
" amid the worsening global trade war.
US and other major government bond yields sank to multi-year lows, taking Washington's 10-year borrowing rate down to 2.04% and pulling Germany's 10-year Bund yield to minus 0.23%.
With Dollar prices rising overnight towards Wednesday's peak near $1344 per ounce, the highest since February's top,
Shanghai's benchmark gold 'fix' price
– launched 3 years ago – rose to all-time highs, breaking July 2016's top to reach almost ¥297 per gram.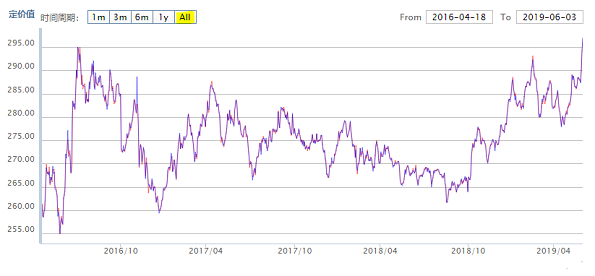 Converted to US Dollar terms, that put the Shanghai premium, over and above comparable quotes in the world's central bullion hub of London, back up at $14 per ounce after falling to 2-week lows on Tuesday's surge in global prices.
That's nearly 60% above the typical incentive for new imports into China, the world's No.1 gold mining, importing and private consumer nation.
"Contraction of the Shanghai premium is always good for a short-term boost," notes Charlie Morris of $380m fund managers Newscape in London.
Chicken or egg, the existence of a premium (or discount if you prefer the inverse measure) means a future rally is coming. And yes, the world price caught up because it was too low. But that's the point.

— Charlie Morris (@AtlasPulse) June 5, 2019
Despite Powell's comments and the rise in gold prices, no major US gold ETF saw any change in the number of shares in issue on Tuesday, leaving the giant SPDR product (NYSEArca: GLD) at its largest size in 2 months
after Monday's heavy inflow
.
Germany's Xetra-Gold ETC was also unchanged, but the quantity of gold held for WisdomTree's London-listed
ETF gold trust funds
grew 0.4% to the largest since May's retreat from all-time highs above 6 million ounces (186 tonnes).
After data from the US Mint showed its sales of gold coins falling 60% in May from April, the Perth Mint in Australia said overnight that its gold bar and coin sales almost halved last month, shrinking to the lowest total since April 2017.
Back in the US, "Powell dropped his standard reference to the Fed being 'patient' in approaching any rate decision," says Reuters of the Fed chair's comments in Chicago on Tuesday, helping knock the Dollar to a 7-week low on the FX market.
Betting on this month's Fed policy meeting
now sees a 30% chance
of Powell's team cutting its key interest rate 25 basis points from the current 2.50% when it meets in 2 weeks' time.
By this time next year, the heaviest betting on June 2020's meeting now sees Fed rates one whole percentage point lower at a ceiling of 1.50%.
Just 0.3% of speculators in CME interest-rate futures expect rates to remain where they are 12 months from now.