Gold Prices Jump to 1st Monthly Gain Since Jan as Trump Whacks Peso, Italy Backs 'mini-BOT' Idea
Friday, 5/31/2019 12:49
GOLD PRICES jumped within 70 cents of the $1300 mark in London trade Friday morning, heading for the first monthly gain since January as world stock markets fell and interest rates sank to multi-year lows following US President Trump's threat of trade tariffs against southern neighbor Mexico.
"China is not the only victim of US trade bullying policies," said a Beijing foreign ministry spokesperson after Trump said he will impose 5% import duty on all Mexican goods from 10 June "unles the illegal immigration problem is remedied" – a move called "disastrous" by Mexico's chief North American diplomat, Jesús Seade.
The Peso sank to sudden 2019 lows against the Dollar, while Asian and European stock markets fell yet again with energy and industrial commodities, but major government bond prices rose still further.
With gold prices just $5 shy of $1300 per ounce as London afternoon trade began, bullion was on track for a near-$20 gain from the end of April.
That figure was 95% as recently as start-March.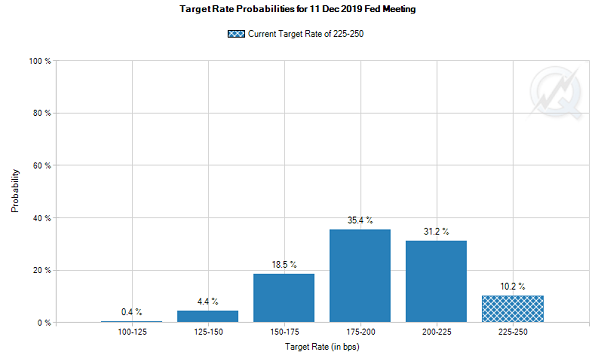 "Gold posted an outside session on Thursday," says the trading desk at Swiss refiners MKS Pamp, "as strong ETF and [hedge fund] interest propelled the metal higher.
"Key top-side resistance levels sit at $1296.40 [100-day moving average] and the psychological USD $1300 figure."
With bond prices rising as equities fell, US Treasury yields dropped today to new 20-month lows at just 2.16%
on the 10-year bond
.
Ten-year German Bund yields meantime sank to -0.21%, the most negative since the aftermath of the UK's shock Brexit referendum result in June 2016.
Alone among major economies, Italy's borrowing costs rose in contrast, hitting 2-week highs at 2.74% after the parliament in Rome this week unanimously approved "unblocking the payment of public administration debts to companies and professionals...through instruments
such as small-denominated government bonds
."
So-called
'mini-BOTs'
would sidestep the European Union's rules on capping government spending deficits at 3% of GDP, and effectively act as a non-Euro means of payment for Italy, the 3rd largest member of the 19-nation currency zone.
Gold priced in the Euro today hit 9-week highs, rising above €1163.
UK gold prices in Pounds per ounce
meantime hit £1030 – just £5 below their highest since November 2016 – as employers' lobby group the CBI rebuked candidates to replace Theresa May as Conservative leader and therefore Prime Minister over wanting to quit the European Union with no divorce deal in place.
"The vast majority of firms can never be prepared for no-deal," said CBI particularly our [small and medium-sized] members who cannot afford complex and costly contingency plans."