Gold Prices Reclaim $1280 But Investors 'Choose Dollar' as US-China Trade War Worsens
Thursday, 5/30/2019 14:08
GOLD PRICES popped $5 higher from new 1-week lows in London trade Thursday, rallying to $1280 as the trade war between the United States and China – the two largest economies – worsened once more.
New GDP data confirmed the US grew 3.1% annually this New Year on a slowdown in inflation.
Beijing today suspended all new imports of US soybeans, while its foreign ministry accused the Trump White House of "
economic terrorism
, economic hegemonism, and economic unilateralism" in the row over trade tariffs and access to China's domestic markets.
Asian stock markets fell again overnight but Europe rallied after the
MSCI World Index
ended Wednesday at its lowest level in 11 weeks.
Gold has lost $10 per ounce over that time, while silver has dropped by 5.0% in US Dollar terms.
Silver prices rallied with gold Thursday morning in London, gaining 1.1% from Tuesday's fresh 2019 low of $14.30 as industrial metal copper hit new 4-month lows, down over 12% from mid-April.
Europe's benchmark Brent crude oil contract steadied below $69 per barrel, down 7.5% from April's 6-month high.
"The on-going trade war between the US and China, in addition to political developments across Europe should see the metal remain firm," reckons a gold trading note from Swiss refining and finance group MKS Pamp.
"[But] at the moment," says a column at the Financial Times, "the [US Dollar] — and not bullion — is seen as the best place to warehouse cash as the trade war between the US and China escalates."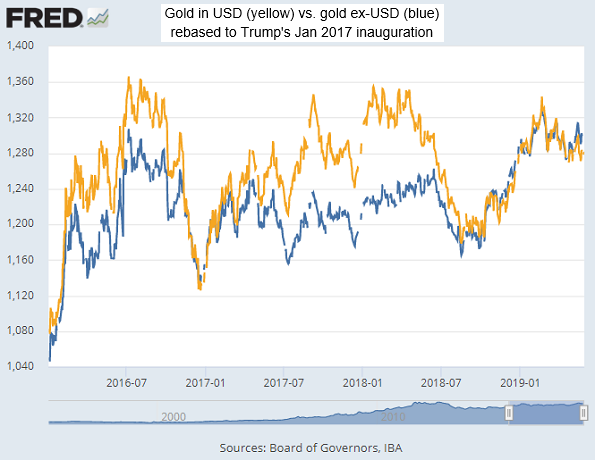 The US Dollar paused its ascent Thursday, holding unchanged on its trade-weighted basket against the rest of the world's major currencies after rising 10.2% since the start of 2018.
"A strong Dollar is also likely impeding big [gold] players such as China and India from consuming too much."
Shanghai prices slipped 0.3% in Yuan terms Thursday but extended their premium over London quotes to the equivalent of $17 per ounce, offering 90% more incentive for new imports to gold's No.1 consumer market than its 3-year average.
Based on Shanghai's benchmark afternoon pricing, gold in Yuan terms has moved in a tight range of less than 1.0% over the last fortnight.
Priced in Dollars, in contrast, gold has moved more than twice as much at the London benchmarking, formerly known as
the London PM Fix
.
Gold prices for miners in Australia – the metal's No.2 producer nation behind China – meantime rose Thursday to A$1851 per ounce, just 0.7% off mid-May's new all-time record weekly close, as the Aussie Dollar fell on the currency market following news of
a slump in business investment
and new home-building permits.
Euro gold prices edged back up to €1150 on Thursday, showing a 3.6% gain for 2019 date.
The
UK gold price in Pounds per ounce
meantime rose to £1014, near its highest since late-February, as the Pound fell yet again and former Conservative leader Iain Duncan Smith
warned of "chaos"
for his party as 11 members of parliament vie to replace Theresa May as Tory leader and therefore UK prime minister following their collapse to 5th place in last week's European elections.