Gold Price Rallies, Equities Drop as 'Inverted Yields' Signal Recession on China's Rare-Earth 'Trade War' Threat
Wednesday, 5/29/2019 14:10
GOLD PRICES rallied back to last week's closing level in London trade Wednesday, recovering yesterday's 0.6% drop as world stock markets extended a fall on Wall Street amid fresh retaliation from Beijing in the US-China trade war.
World No.4 economy Germany meantime reported its first rise in unemployment for 6 years.
"US risks losing rare earth supply in trade war," says China's state-run news agency Xinhua after President Xi visited a major producer site last week and official planning body the National Development and Reform Commission today suggested using the metals – irreplaceable in many technologies from electronics to X-rays – as
a "counter-weapon against the US's unwarranted suppression
."
The US imports 80% of its rare earth compounds and metals from China, the No.1 producer.
"China has reiterated its stand in promoting multilateralism and tried to avoid a trade war that hurts public interests," says Xinhua, now using the words "trade war" in 11 articles inside 2 days on its English-language site.
Asian and European equities fell Wednesday, erasing global stock markets' slight rally from last Thursday's 2-month low on
the MSCI World Index
.
Major government bond prices rose once again, pushing 10-year US Treasury yields down to 2.23%, their lowest since September 2017.
With shorter-term debt prices rising less steeply, that took 10-year yields further below 3-month Treasury bill rates than any time since 2007, eve of the global financial crisis.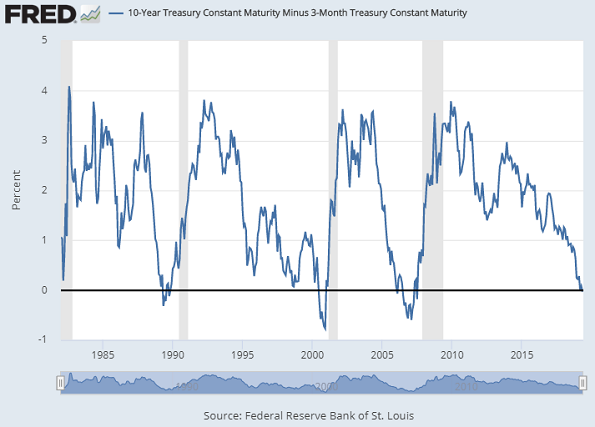 US consumer confidence has jumped this month to near 18-year highs, new data said from the Conference Board survey yesterday.
Italy's consumer and business confidence both rose on surveys taken before the weekend's sweeping European parliamentary victory for the nationalist Lega Party.
But so too did Germany's unemployment rate, reaching 5.0% with the first rise since 2013.
Ten-year German Bund yields fell yet again Wednesday, dropping to their lowest in almost 3 years at -0.17% as the total value of negative-yielding bonds – effectively costing investors to own them – rose further above $10.7 trillion worldwide.
"The market is deeply underestimating how bad it can get," reckons Sebastien Galy, senior macro strategist at the €217bn Nordea Asset Management group,
telling MarketWatch he thinks
a 5-10% drop in equity prices looks "quite likely though eventually temporary."
"The President wants [to squeeze] China [so it] won't have enough money to advance their Belt and Road initiatives and world-hegemony aims," says celebrity pundit and fund manager Jim Cramer.
Copper prices meantime fell again Wednesday, flirting with 9-month lows, as platinum dropped back below $800 (a 14-year low when first reached late in 2018) and crude oil dropped to a 13% loss from mid-April's 6-month top.
Aluminum prices have sunk near start-2017 levels, down over 25% from last spring's top.
The
price of silver
however – which finds 60% of its demand from industrial uses – today rallied with gold prices, edging 18 cents above yesterday's dip below $14.30, a new 2019 low.