Gold Prices Hit 3-Week Lows as Dollar Gains, Euro Faces 'Contagion', World 'Fragile' on Trade War
Tuesday, 5/21/2019 14:48
GOLD PRICES fell to new 3-week lows in London on Tuesday, dropping below $1271 as the US Dollar held near multi-month highs and European stock markets rose, bucking yesterday's 'trade war' falls on Wall Street and Asia overnight.
The US Commerce Department meantime gave Huawei a 90-day reprieve on
ban President Trump announced last week
, issuing a "temporary general license" to the Chinese tech giant so it can update support for existing smartphones and telecoms equipment ahead of a new 19 August deadline.
The
UK gold price in Pounds per ounce
slipped back below £1000 – a 14-month high when breached in December – as Sterling bounced from its weakest Dollar value since start-May as the Conservative Government of Theresa May prepared to
try for the 4th time
to get her Brexit deal with the European Union approved by Westminster.
China's Yuan also rallied, edging higher from Monday's new 2019 lows against the Dollar.
Together with solid
Shanghai gold prices in Yuan terms
, that extended the premium for gold bullion landed in the metal's No.1 consumer market to $12 per ounce over London quotes, almost 50% above the typical incentive for new imports.
Like the Pound the single currency Euro earlier fell near 3-week lows to the Dollar, dropping within 0.3 cents of late-April's 2-year lows beneath $1.1150.
Weak Eurozone GDP growth is due for confirmation in Wednesday's data, plus a 'dovish' speech is widely expected from European Central Bank chief Mario Draghi on Thursday.
May's activity reports from Europe's manufacturing sector are expected to show further contraction in Thursday's first-flash PMI surveys from the Markit data agency.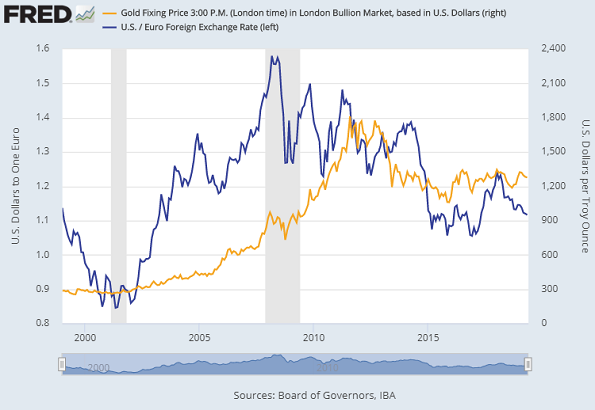 Europe faces a possible
return of its "debt crisis"
warns Dr.Lars Feld, a member of the German Council of Economic Experts, with the worsening global trade war and slowdown in Germany risking "potential contagion" from the spending deficit plans of Italy's anti-establishment coalition government.
Euro gold prices fell Tuesday however to 3-week lows beneath €1140 per ounce, down 4.0% from February's near 2-year top.
"Although some markets like developed market equities have begun recovering from May's trade war escalation, it's premature to extrapolate stability," reckon analysts at US investment bank J.P.Morgan, pointing to the Japanese Yen and gold as potential hedges which are currently "under-owned" by investors as the US Federal Reserve prepares to cut Dollar interest rates.
"The
world is fragile
," agrees Laurence Boone, chief economist at global think-tank the OECD in Washington, and "it is very difficult to be resilient to what has been happening on the trade side.
"Global growth has stabilised but remains weak as trade growth has fallen sharply."
Urging national governments to boost fiscal spending "where possible", the OECD's latest outlook warns that if the US and China impose the 25% tariffs threatened on each other's goods, US economic output will fall by 0.6% and China's by 0.8% over the next 2 years.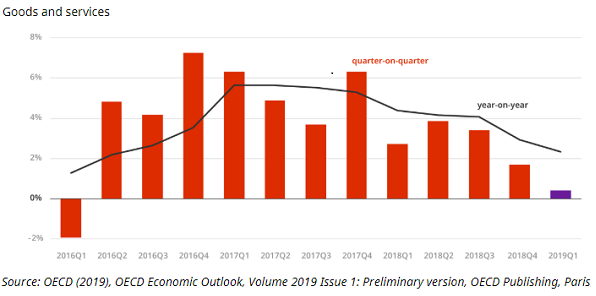 The UK's repeatedly-rescued British Steel is meantime
set for liquidation
unless it can secure £75m ($100m) it's asking from government, risking a total of 25,000 jobs including suppliers.
Silver on Tuesday extended the drop in gold prices, slipping beneath $14.40 per ounce for the first time since early December.
The
platinum price
erased the last of its prior 13.0% jump from March's lows, trading back down at $809.