GLD Grows But Gold Price Slips as Google Blocks Huawei, Trump Vows 'End of Iran' If Conflict Begins
Monday, 5/20/2019 14:46
GOLD PRICES steadied Monday in London, down $1 from last week's finish, as US tech giant Google "complied" with Donald Trump's call to block Chinese firm Huawei and the President warned Tehran it faces the "end of Iran" if it threatens US interests, writes Atsuko Whitehouse at BullionVault.
Crude oil prices jumped to multi-week highs after the Opec producers cartel indicated it would probably maintain last year's output cuts.
Western stock markets fell hard as tensions rose, but Asian stock markets edged higher overall – and Mumbai's Sensex leapt to new all-time highs – after incumbent leaders Narendra Modi in India and Scott Morrison in Australia were seen leading their national election results.
Trump yesterday joined US ally Saudi Arabia in warning Iran against starting a military conflict in the Middle East – a threat
met in kind on Twitter
– after last week's "sabotage" of 4 vessels in the region and talk of "proxy war" in neighboring Iraq.
Spot gold prices traded near flat at $1276 per ounce after falling through what some technical analysts had called support around the $1280 mark on Friday as the US Dollar hit a 21-month high on its DXY index against a basket of the currency's main competitors.
Silver tracked gold prices to reverse a small rally from Friday's new 5-month low at $14.40 per ounce.
Platinum prices
meantime slipped to new 10-week lows at $812, down more thanh $100 from April's 11-month high.
"For gold, $1265 is now a critical support that must hold," Reuters quotes one spread-betting analyst.
"A daily close below that region implies a much deeper correction could be imminent."
Investing in the giant SPDR Gold Trust (NYSEArca: GLD) – the world's largest gold-backed ETF fund – increased 2.9 tonnes to 736 tonnes last week. It was the first weekly gain after reducing 6 weeks in a row.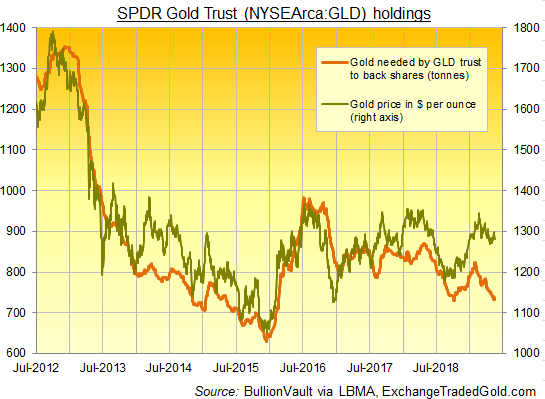 Hedge funds and other 'Managed Money' traders last week also raised their betting on gold last week, growing their long position on Comex gold futures and options – net of the same group's bearish bets – by 234% according to
US regulator the CFTC
, up to the largest in 7 weeks.
Taken as of Tuesday 14 May however, that data came before prices broke below $1280.
Google search-engine giant Alphabet (Nasdaq: GOOGL) at the weekend suspended Huawei's access to updates of its Android operating system, while chipmakers have reportedly cut off supplies to the Chinese telecoms company – complying with orders from the US government as it seeks to blacklist Huawei around the world.
No further trade talks between top Chinese and US trade negotiators have been scheduled since the last round ended on May 10, when Trump increased tariffs on $200 billion in Chinese imports to 25%.
The US-China trade war escalated sharply last week when China also raised tariffs on $60 billion of American goods.
In an interview with Fox recorded last week and aired Sunday night, Trump said the United States and China "had a very strong deal, we had a good deal, and
they changed it
. And I said that's okay, we're going to tariff their products."
"[Riyadh] will do what it can to prevent this war" with Tehran said Adel al-Jubeir, Saudi State Minister of Foreign Affairs, to a news conference on Sunday.
"[But] at the same time it reaffirms that in the event the other side chooses war, the kingdom will respond with all force and determination, and it will defend itself and its interests."