Gold Prices Near New 2019 Lows as US Fed Defies Trump and Interest-Rate Speculators
Thursday, 5/02/2019 14:39
GOLD PRICES extended their post-Fed drop in London trade Thursday, falling within $3 per ounce of 5-month lows as world stock markets also dropped after the US central bank defied both President Trump and the financial markets by refusing to say that it's looking to cut interest rates in the world's No.1 economy.
"We think our policy stance is appropriate at the moment," said Federal Reserve chief Jerome Powell to reporters after keeping the FOMC's key interest rate at an 11-year high of 2.50% on Wednesday.
"We don't see a strong case for moving it in either direction."
Following the sudden overnight drop in New York equities on Powell's remarks, Japan and mainland Chinese stock markets stayed closed for national holidays but European shares lost over 0.5% on average while US crude oil prices fell more than $1 per barrel towards 1-month lows at $72.
Longer-term bond yields
were little moved Thursday morning, but betting on a cut to short-term rates by New Year 2020 fell below 53% of all speculative trading on Fed Funds futures contracts, down from more than 61% before the Fed spoke
according to data from the CME
derivatives exchange.
"China is adding great stimulus to its economy while at the same time keeping interest rates low,"
Donald Trump tweeted
from the White House ahead of this week's Fed meeting.
"Our Federal Reserve has incessantly lifted interest rates, even though inflation is very low...We have the potential to go up like a rocket if we did some lowering of rates, like one point, and some quantitative easing."
Following last week's
strong headline reading on US GDP
, yesterday saw the private-sector ADP Payrolls estimate of US jobs growth blow past analyst forecasts for April, coming in more than 50% above greater at 275,000 net additions.
Friday will bring the official April estimate for Non-Farm Payrolls.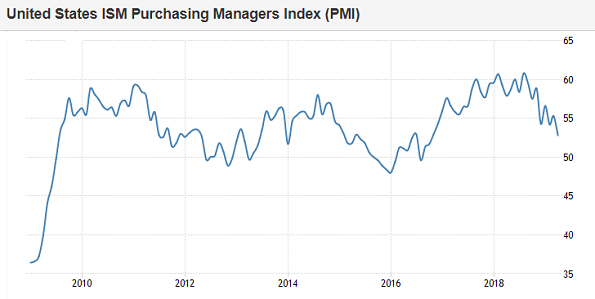 "There was nothing important out of the FOMC," Reuters today quotes Afshin Nabavi, senior vice-president at Swiss-based gold refining and finance group MKS Pamp.
"The [bullion] market is under pressure after a lack of follow through...[after] prices could not break above $1290 after several attempts."
Gold prices fell to $1269 as the start of New York approached on Thursday, losing nearly $20 for this week so far.
The
silver price
also tumbled after an initial spike on Wednesday's Fed announcement, extending its drop to nearly 10% from February's 8-month highs and touching fresh 2019 lows at $14.61 per ounce.
Platinum prices fell harder, down almost 5% for this week alone to erase the last month's gain and hit $857.
Sister-metal palladium was steadier but only after losing over 7% already on Monday, before the Fed's decision.
The Bank however also repeated its forecast that "an ongoing tightening of monetary policy...at a gradual pace and to a limited extent...[looks] appropriate" sometime in the future.
The UK gold price in Pounds per ounce
fell within £1 of a 5-month low at £972, while the Euro gold price lost almost 2% from last Friday's finish, trading down to Easter weekend levels at €1132.
The Paris stock market meantime re-opened with a 0.6% loss following yesterday's violent 'gilets jaunes' protests for May Day, accompanied Wednesday by so-called 'black block' protestors – clad in dark clothing and hiding their faces – bursting into a teaching hospital as police fired tear gas and arrested over 300 people.