Gold Price Retreats Ahead of the Fed as UK Asks EU to Delay Brexit
Wednesday, 3/20/2019 14:30
GOLD PRICES retreated from near 1-week highs against the Dollar on Wednesday in London, dropping as the UK formally asked the European Union to delay next Friday's Brexit and world stock markets fell with major government bond yields ahead of today's US monetary policy decision and forecasts from the Federal Reserve.
After the latest data on US factory orders missed analyst forecasts on Tuesday, both UK and Germany's price-inflation figures came in below expectations this morning.
UK house prices are also rising at the slowest pace since spring 2013
according to the Land Registry
, adding just 1.7% per year on average this New Year.
With just 1.3% betting on a rate cut today, speculators in the US interest-rate futures market
continue to see a 1-in-3 chance
that the Fed will cut its key policy rate sometime in the next 10 months.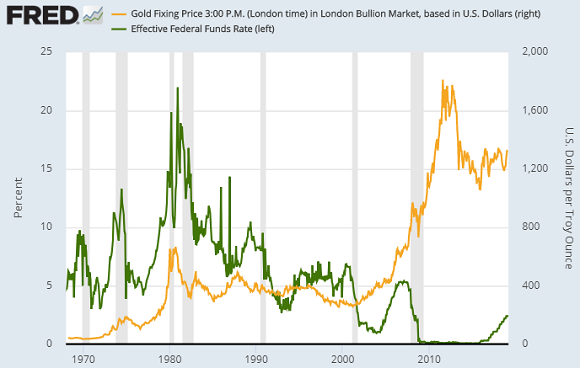 Shanghai gold prices today edged higher in Yuan terms, holding the premium for bullion bars delivered in China – gold's No.1 consumer market – at $14.50 per ounce over comparable London quotes, extending the incentive for new imports by nearly one-half from typical levels and suggesting strong domestic demand.
Gold priced in UK Pounds
meantime jumped to £993 per ounce, erasing most of last week's 1.8% drop, as Prime Minister Theresa
May asked Brussels
to approve a 2-month delay to Friday 29 March's Brexit deadline – imposed by May herself when she triggered Article 50 of the European Union Treaty 2 years ago – so she can seek Parliamentary approval for her deal Withdrawal Agreement with the EU.
"Withdrawal
has to be before 23 May
," said European Council president Jean-Claude Juncker's office, "otherwise we face institutional difficulties and legal uncertainty" because European Parliament elections are due in all member states on that date.
Facing calls of "betrayal" from her own backbench MPs plus calls to resign from the opposition Labour Party, May today
pointed out that Parliament
– as well as twice rejecting her deal out of hand – has now voted to reject a 'no deal' exit, a customs union with the EU, and also a second referendum on the matter.
"Because the
elites control London
from Brussels, the will of the people is likely to be ignored," says Donald Trump Junior, 41-year old executive officer of father Donald's multi-billion dollar real-estate empire during his term as US President, writing in pro-Brexit UK newspaper
The Daily Telegraph
.
Trump Senior meantime continued his Twitter row with Washington lawyer George Conway, husband of pollster and now White House counselor Kellyanne, for calling the President's
mental health into question
.
George Conway, often referred to as Mr. Kellyanne Conway by those who know him, is VERY jealous of his wife's success & angry that I, with her help, didn't give him the job he so desperately wanted. I barely know him but just take a look, a stone cold LOSER & husband from hell!

— Donald J. Trump (@realDonaldTrump) March 20, 2019
New York's stock markets opened the day 0.3% lower as traders awaited the Fed's March 2019 statement and economic forecasts.
Longer-term US interest rates also fell as the price of Treasury bonds rose, pushing the yield offered by Washington's 10-year debt down towards 2019's lowest so far at 2.59% per annum.