Gold Gains But Fed Rate Hike 'Under-Priced' as US and UK Wages Rise with Eurozone Sentiment
Tuesday, 3/19/2019 13:41
GOLD PRICES rose again Tuesday in London, coming within $1 per ounce of new March highs at $1310 as major government bond prices slipped but Western stock markets also gained ahead of tomorrow's monetary policy decision from the US Federal Reserve.
Betting on US interest-rate futures continues to see zero chance of the Fed raising borrowing costs this year, with the
likelihood of a rate cut
by February 2020 rising to nearly 1-in-3.
"Our historical analysis," says the mining-backed World Gold Council in
a new note today
, "shows that when the Fed has shifted from a tightening to a neutral stance, gold prices have increased, even if this effect has not always been immediate.
"In our view, the combination of rangebound US interest rates, a slowdown in the appreciation of the US Dollar and continued market risks will continue to make gold attractive to investors."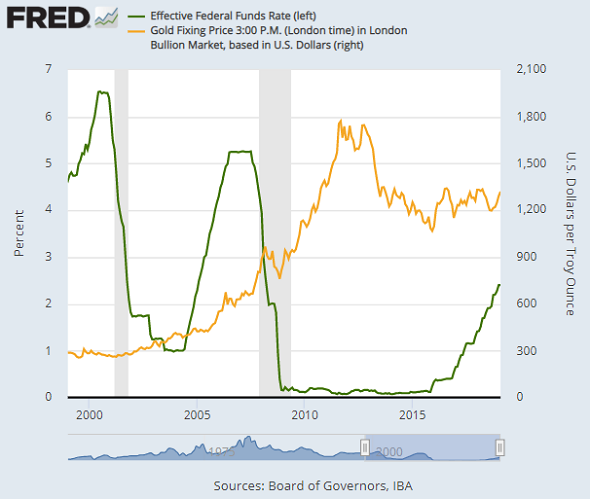 But "we think there is a significant risk that the gold market is under-pricing the probability of further hikes during 2019-2020," counters analysis from Chinese-owned brokerage and bullion bank ICBC Standard.
"[US] wage growth is finally accelerating, introducing potential inflationary pressure...and the ongoing acceleration in US non-residential fixed investment has also supported improvement in labour productivity growth...[potentially helping] extend the business cycle for a little longer yet."
New UK data meantime said
Tuesday that unemployment in the world's 5th largest national economy has fallen to a new 45-year low at 3.9%, with the number of people in work never higher.
Despite 5 years of wages growing faster than inflation however, average weekly UK earnings remain 1.5% below their peak of early 2008 in real terms, the ONS says.
With 10 days remaining until the UK's current exit-day from the European Union, the Government of Theresa May said Tuesday it will push ahead with
trying a third Parliamentary vote
on her Brexit deal with the EU, despite the Speaker of the House of Commons ruling against it after May was twice defeated out of hand.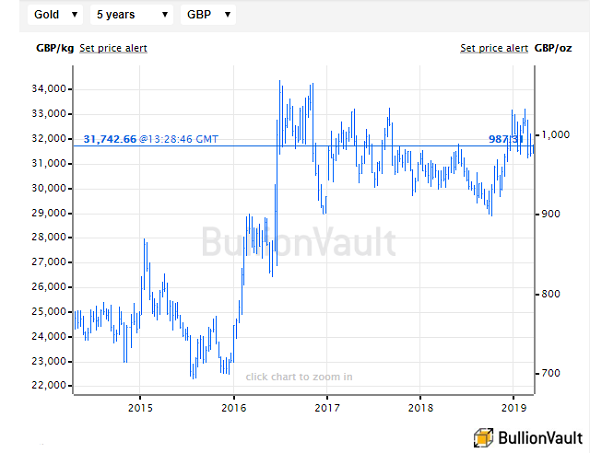 Euro gold prices also rose, adding 0.4% for the week so far even as the
Eurostoxx 600 index
of equities gained 0.8% after the latest ZEW survey of economic sentiment in world No.4 national economy Germany came in
much less negative
than analysts forecast.