Gold Prices Fall, Speculators Less Bullish But China Buying Bullion 'to Escape Dollar'
Monday, 3/11/2019 14:58
GOLD PRICES slipped against a rising Dollar in London on Monday as new data said US retail sales grew faster than analysts expected at New Year, writes Atsuko Whitehouse at BullionVault.
The US and China were meantime reported to have reached a consensus on "many key issues" around trade tariffs, while Brexit talks between the UK and EU became "deadlocked" with one day until Westrminster's latest key Parliamentary vote and barely 2 weeks until the 29 March exit date.
Spot gold prices edged lower to $1291 per ounce after hitting a 1-week high at $1300 last Friday.
World stock markets meantime rose after their worst week of 2019 so far as the new US data said January's retail sales defied analyst expectations to rise 0.2%, but December's figure was
revised sharply lower
.
Data from US regulator the CFTC said late Friday that speculators in Comex gold futures and options trimmed their bullish betting as prices slipped last week.
Ahead of Friday's shock miss for US jobs data, the 'Managed Money' category of hedge funds and other speculators cut its long position, net of the same group's bearish bets, by 54% to 149 tonnes, the second weekly cut in a row and the smallest net long level in 6 weeks.
This data puts the Commitment of Traders reports finally up to date after the New Year delays due to the US government shutdown.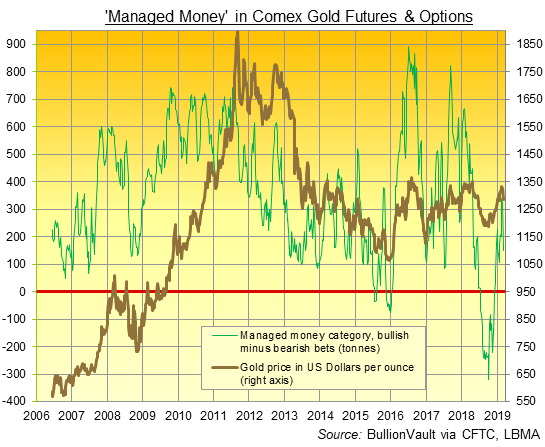 "Bullion's appeal, though dented by robust US Dollar prospects, will stand tall amidst a decelerating global economy in 2019," reckons brokerage Phillip Futures in Singapore, adding that gold should stay firm as the United Kingdom prepares for its key votes on the Brexit deal.
World No.5 gold consumer nation, Turkey slipped into
economic recession at the end of last year
according to the country's official statistics office, with the drop in GDP accelerating from the third quarter's fall.
A second "meaningful vote" on the Brexit agreement negotiated by Prime Minister Theresa May is due to take place on Tuesday evening, following a full day of debate in the Commons. The UK is due to leave the EU on 29 March.
For European investors gold declined to €1152 per ounce as shares in German financial giant Commerzbank AG rose sharply on reports it's edging closer to a merger with Deutsche Bank AG.
China and the US have reached consensus on many "crucial" issues and have discussed the need to observe the "autonomy" of each other's monetary policy, People's Bank of China Governor Yi Gang said during a press conference in Beijing during the annual National People's Congress.
The PBoC also pledged
more policy "support"
for the world's No.2 economy after new data showed a steep drop in new bank lending after January's fresh all-time high.
Last month the PBoC increased its gold reserves for a third month running, according to data on the central bank's website.
February's inflow of 9.95 tonnes follows the addition of 11.8 tonnes in January and 9.95 tonnes in December, when the PBoC began reporting that it had been buying gold after a two-year pause.
"Ongoing efforts to diversify total reserves – away from the US Dollar – has prompted gold purchases by the PBoC, which we believe will continue," says Robin Bhar, head of metals research at Societe Generale SA.