Lowest Friday Gold Fix Since April 2010, But Price 'Remarkably Strong', Gains vs Euro as US Stocks Sink
Friday, 3/13/2015 15:47
DOLLAR GOLD PRICES recorded their lowest Friday PM Fix since April 2010 in London today, clearing at $1152 per ounce as the US currency rose to new 12-year highs on the FX market.
Gold priced in Euros held firm, trading near €1095 per ounce for its highest weekly close since January's 20-month highs at €1155.
Eurozone stock markets rose, but Wall Street shares sank at Friday's opening, losing more than 1% inside 2 hours to head for their third weekly loss in sucession.
"Gold looks to be finding some support around $1150 per ounce," Reuters quotes one Asian trading desk, "although the short-to-medium term bias is still to the downside."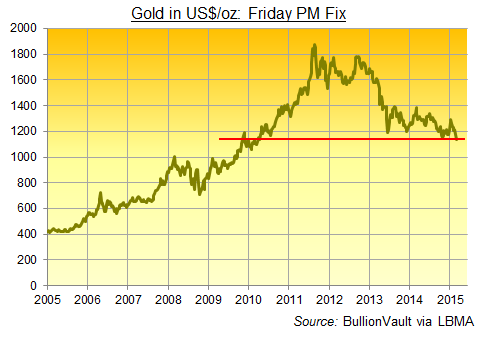 "The gold price has held up remarkably well given the extent of the Dollar's move," says a note from Julian Jessop, head of commodities research at London consultancy Capital Economics.
Looking at US bond yields, "The gold price has already fallen much further than the current level of the real yield [adjusted for inflation] might justify," Jessop adds.
But "normalization of US interest rates," counters a new Commodity Watch from US investment bank Goldman Sachs, "has been the dominant force pushing prices lower."
"In line with our economist's forecasts for continued [US] growth, labor market recovery and increase in real rates," says Goldman, "we maintain our long-held bearish outlook on gold prices."
Russia's central bank today joined South Korea, China, India and Brazil and
19 other monetary authorities
in making a surprise cut to interest rates already this year.
With Moscow's repo rate now 14% per annum – down from the 21st century high of 17% set to try and stem the Ruble's collapse to record FX lows this winter – the Ruble today edged 1.5% lower from last week's finish.
Spot gold prices converted to Rubles pushed above RUB70,500 per ounce, but held some 20% below January's post-1990s record.
Shanghai's main gold contract meantime
ended the week at a $4.75 per ounce
premium to London quotes, up from around $3 per ounce last Friday and incentivizing wholesale imports into China, the world's No.2 consumer market.
UK gold exports – reflecting global demand for wholesale bars vaulted in London, the world's main stockpiling center – outpaced imports by the smallest margin in 5 months in January, new data showed this week.
Net UK outflows totaled 4.2 tonnes as Dollar gold prices hit 5-month highs at New Year. Net exports in 2014 reached 468 tonnes, down more than two-thirds from the outflows on 2013's thirty per cent drop in world prices.
Gold imports to India, the world's No.1 consumer market, rose for a second month running in February, new data said today,
reaching almost $2 billion
by value.
"Demand has increased a little bit because of [this week's] drop in prices," says Bachhraj Bamalwa at the All India Gems & Jewellery Trade Federation.
But with the Hindu wedding season not returning until April, and the Akshaya Tritiya festival falling at the end of next month, "there is no big rush," he adds.