Euro Gold ETFs Expand 40% as ECB Marks 3 Years of Record Negative Rates
Thursday, 3/07/2019 14:24
GOLD ETF share prices ticked higher for Eurozone investors on Thursday, rising as bullion itself edged above last week's finish in terms of the single currency on the promise of new cheap lending from the European Central Bank.
Dollar gold prices held near 7-week lows beneath $1285 per ounce as the US currency hit 3-week highs versus the Euro, knocking the 19-nation unit down to $1.12630 – some 10 cents lower from this time last year.
New data today showed Eurozone GDP missing analyst forecasts with
sluggish growth of just 1.1%
per year at the end of 2018, the weakest pace since 2013.
The ECB in Frankfurt today marked the
3rd anniversary
of cutting interest rates for commercial banks to -0.40% by keeping that negative policy unchanged. It also confirmed
a new round of "stimulus"
from cheap long-term LTRO loans, now due to start in September.
Germany's Xetra-Gold fund – the Eurozone's largest gold-backed ETF – rose 0.4% in price to a 1-week high as physical gold bullion pushed back above €1140 per ounce.
An 18-month high when reached at the end of January, that is little changed from this point in March 2016 when the ECB first took its deposit rate down to negative 0.4% in a bid to force more lending to business and households by charging commercial banks to hold unused money.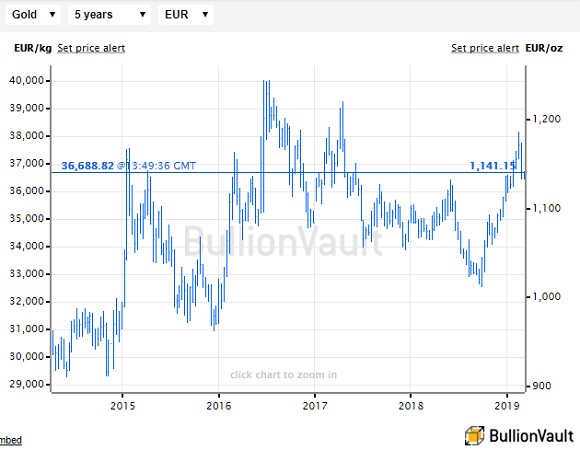 With global growth slowing and the wider commodities complex already slipping 1.7% in Dollar terms from late-February's 3-month high, "Commodities have now reached a level where they are no longer significantly undervalued relative to their current fundamentals,"
says a tip
from US investment bank Goldman Sachs, recommending a "neutral portfolio position in commodities."
For gold however, its "safe-haven status will...likely see relative outperformance as late-cycle recession fears remain and several key central banks continue diversifying their reserve assets."
February saw "net outflows in gold-backed ETFs" worldwide
says data compiled
by mining-industry market development organization the World Gold Council, "as global stock markets continued their upward trend, moving up 2% on the month."
Global stock markets "now stand 8% higher over the first two months of the year, their strongest start in three decades," says the WGC. "However, market uncertainty remains a concern."
February's outflows from gold-backed ETF products – favored by fund managers wanting gold-price exposure but unable to buy physical bullion – came "after four straight months of inflows," the report goes on.
"The primary driver of global outflows was North American funds, as momentum investors took profits using these, the most liquid [such] funds."
While 4 of the 8 Eurozone-listed gold-backed ETFs shrank in size last month, they have now grown 40% since the ECB first took its deposit rate to -0.4%, needing 335 tonnes of bullion backing at the end of February.
Back in the wholesale physical market, "Asia were light buyers [Wednesday]," says a note from Swiss refiners and finance group MKS Pamp, "pushing gold up to $1289.
"London were also buyers and [gold] managed to break the $1290 resistance but a lack of any follow-through demand saw the yellow metal drift back lower."
Four of the 7 London-listed
gold ETFs
for UK investors expanded last month, says the WGC data, but 3 of the UK's four largest such products saw investor selling overall, pulling the total gold backing them 0.4 tonnes lower from January's new all-time record above 506 tonnes.
Already rejected out of hand twice by Parliament, May's deal looks set for rejection again in the final vote next Tuesday, leaving only 17 days until the UK's current Brexit deadline of 29 March.