Gold Chart 'Increasingly Bearish' as 2020 Betting on Fed Rate-Cut Sinks
Tuesday, 11/12/2019 14:40
GOLD CHARTS saw the lows beneath $1450 per ounce hit for the 3rd time in 2 sessions on Tuesday, keeping the metal near its cheapest since start-August as longer-term interest rates also held at 3-month records on the government bond market.
World stock markets pushed higher, despite Wall Street failing to set a 3rd fresh all-time record high running on Monday.
"In late August when so many commentators were freaking out," says celebrity stockpicker
Jim Cramer on CNBC
, "the legendary [trader] Larry Williams told us the negativity was peaking and the stock market was poised to go higher.
"Well guess what: he nailed it. So when he tells us that the [stock market] averages can keep running [higher] through the end of the year...along with [stock in] Home Depot, Walmart, and UPS...you better take him seriously."
With longer-term interest rates jumping so far this month, betting on the Federal Reserve's overnight rate now sees no change from the US central bank until at least June 2020, according to
data from the CME derivatives exchange
.
But betting that the Fed will cut its key rate once or more in 2020 today rallied hard, jumping from Monday's drop to the lowest since June, back up to forecasting a likelihood of 3-in-5.
That compares to the near dead-cert forecast as recently as start-October, when the interest-rate market saw almost a 1-in-3 chance of 2 cuts by the end of next year, taking the ceiling for Fed Funds down to 1.25%.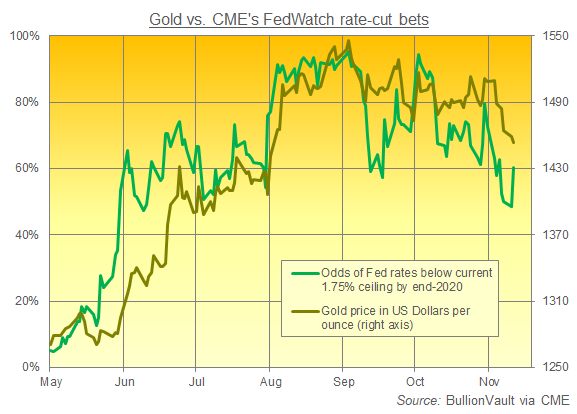 "The technical configuration on
the gold chart
is increasingly bearish following the breach of $1459," says today's note from analyst Rhona O'Connell at brokerage INTL FC Stone.
"[While] there is some bargain hunting and the market is now heavily oversold...if this [area] fails, plus a supportive band of congestion [below it], the next level would be $1416."
Gold premiums in China, over and above comparable prices in London, today slipped back to $4.50 per ounce, barely half the average incentive offered to new imports of bullion to the metal's No.1 consumer nation.
After world No.5 economy the UK reported its slowest GDP growth in a decade on Monday, new data today said machine-tool orders in Japan – an early indicator for global manufacturing activity – worsened their 2019 slump to 37.4% per year in October.
Tuesday's figures also said the UK's jobless rate slipped to a new half-century low of 3.8% last month, but wage growth slowed.
Optimism has meantime rallied but missed analyst forecasts so far this month among both finance workers in Germany and small-business managers in the United States, according to the ZEW and NFIB surveys.
Euro gold charts today showed the price of bullion rallying €10 per ounce from Monday's plunge, edging back above €1320, while the UK gold price also bounced off its lowest since the summer at £1125.