Gold ETF Sales See Bullion Hit Multi-Week Lows as Stocks Rise with Bond Yields
Friday, 3/01/2019 14:13
GOLD BULLION traded in London's wholesale market fell to the weakest Dollar price in 2 weeks on Friday, starting March at $1305 per ounce as world stock markets rose and new economic data beat analyst forecasts.
Ten-year US Treasury yields rose to their highest in more than 3 weeks at 2.73% as new data showed US personal incomes rising 1.0% in December from November, with the PCE measure of inflation coming in at 1.9% per year.
Unemployment across the 19-nation Eurozone had earlier been reported at 7.8%, its
lowest in a decade
.
Euro gold prices today dropped to 4-week lows at €1146, while the UK gold price in Pounds per ounce fell towards an 11-week closing low at £986.
Thursday's falling price saw
gold ETF
shareholders in the giant SPDR Gold Trust (NYSEArca: GLD) liquidate positions once again.
Despite Dollar gold prices rising in February to their highest monthly average since April 2018, the GLD saw only 1 day of inflows and 13 outflows last month.
Shrinking to need 784 tonnes of gold bullion backing, the GLD erased all of January's growth, the fastest inflow since September 2017.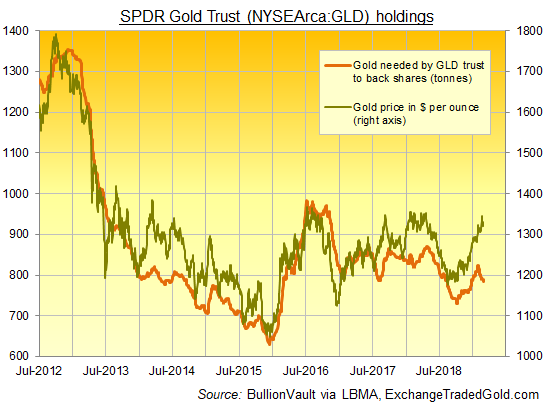 Cheaper competitor the iShares gold ETF trust (NYSEArca: IAU) added 7 tonnes meantime, setting a new record size just shy of 300 tonnes of gold bars.
Lower-cost BullionVault saw its global client-base liquidate 0.2 tonnes between them, taking total holdings to a 6-month low beneath 38.8 tonnes, stored in each client's choice of London, New York, Singapore, Toronto or Zurich.
"Gold is currently staring right at a channel support," says Singapore bank
DBS in a technical analysis
of Dollar prices, "but needs to run lower to complete a corrective dip.
"A channel-support break would likely push gold lower toward $1303. There the market would seek a timeout [with] a bout of consolidation."
Silver prices
today extended the drop in gold bullion, retreating to 5-week lows at $15.46 while platinum added 2.5% from last Friday, heading for its highest weekly close since November.
Over in India, "Jewellers are buying in a phased manner as prices have corrected," Reuters today quotes one Kolkata wholesaler.
With Rupee prices for consumers setting new all-time highs last week, "They are [now] expecting an improvement in retail demand in coming weeks," says Harshad Ajmera at J.J.Gold House.
Back here in London – and with Brexit now 4 weeks away with no sign of Parliament agreeing to Prime Minister Theresa May's deal with the European Union – taxpayers will give train service Eurotunnel
£33m to settle a lawsuit
over the Government's "secretive" and failed attempt to find extra cross-Channel ferry capacity to ease freight shipments in the event of a 'no deal' Brexit.
Having granted a £14m contract for extra post-Brexit services to a ferry company with no ships, current UK Transport Secretary Chris Grayling's "rushed...failed...[and] costly" decision to part-privatize the UK probation service when Justice Secretary will
cost £171m to unwind
, according to the National Audit Office today.