GLD Sees Gold Bars Outflow at Price Peak, Bunds Hit New Negative Record as ECB and PBoC Vow 'Support'
Thursday, 6/06/2019 13:49
GOLD BARS traded in London's wholesale market rose to new multi-month highs for UK and Euro investors on Thursday, gaining as the European Central Bank vowed to keep its interest rates at record lows for 6 months longer than previously promised.
Dollar gold prices also edged back, slipping $8 from yesterday's 15-week peak to trade at $1336 even as the US currency slipped ahead of Friday's monthly jobs data – predicted to show a slowdown after
a shock reading
on the private-sector ADP estimate.
Promising to "continue reinvesting, in full, the principal payments from maturing securities purchased under the [QE] asset purchase programme,"
the ECB said
it will keep interest rates "at their present levels at least through the first half of 2020" rather than end-2019.
The ECB also began to share details of its new long-term refinancing operation – the third such package of low-cost LTRO loans to European banks, currently totalling €739 billion ($832bn).
Ahead of the Euro central bank news, the yield offered to buyers of 10-year German Bunds set fresh negative records at -0.24% per annum.
But the Euro price of large gold bullion bars edged back from this morning's new 24-month high above €1190 as the single currency rallied against the Dollar after losing 1 cent from yesterday's 3-week high of $1.13.
Across the 19-nation currency union, government bonds now offer negative yields – costing the investor to own them – as far out as debt maturing in 2031.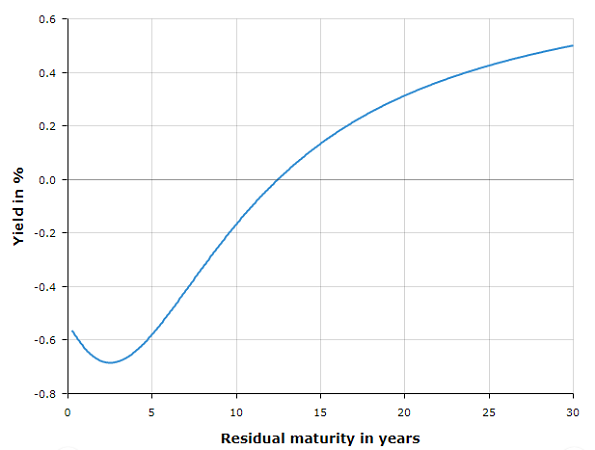 "It's clear that the expected
normalization is on hold for a long period
of time and markets have understood that," reckons Franck Dixmier, global head of fixed income at investment giant Allianz Global in Paris.
"There is no rate hike priced in for three years."
The
UK gold price in Pounds per ounce
meantime hit its highest since November 2016 at £1055 after inflation-adjusted yields on 10-year index-linked UK Gilts fell last night to -2.5% per annum.
China's benchmark Shanghai gold price set another fresh series high Thursday, edging above ¥298 per gram, as as the People's Bank
renewed and expanded $72bn-worth
of medium-term lending in the money market.
The CSI300 index slipped for the day, and has now retreated 13.5% from April's 14-month peak, but remains 18.4% higher for 2019 to date.
"The market is optimistic that PBOC will be supportive, and the PBOC is unlikely to disappoint amid the current risk-off environment," says Australian bank Westpac's Asia macro strategist in Singapore, Frances Cheung.
To avoid US President Trump's new tariffs on Mexican imports, Canada's No.2 gold miner and world No.11 Agnico Eagle (TSE: AEM)
may ship ore it mines in Mexico
for refining into gold bars onto Canada, rather than the United States where it currently goes, CEO Sean Boyd said Wednesday.
The quantity of gold bars needed to back the value of gold ETF trust funds slipped worldwide in May, data from the mining-industry backed
World Gold Council said Thursday
, down by 2.2 tonnes to a total of 2,421 tonnes.
World No.1, the SPDR Gold Trust (NYSEArca: GLD) yesterday saw a near 2-tonne outflow as investors sold stock, edging its holdings down from
the sudden 2-month high
reached on Monday's sharp inflows.