Gold Ticks Up as Speculative Betting Against Silver Hits Record High, Price Drop "Unconvincing" from 11-Month "Triangle"
Monday, 6/09/2014 13:43
GOLD BULLION re-touched Friday's 1-week high and silver neared 2-week highs in London trade Monday morning, as a rise in Asian and European stockmarkets took world equity indexes new near all-time record highs.
With gold bullion hitting $1257 per ounce, silver touched $19.20 before also easing back.
Betting against higher gold bullion prices by hedge funds and other non-industry players last week jumped to 2014's largest level to date, new data from US regulators the CFTC showed Friday.
Overall, that took the net position of the so-called "Large Speculators" in Comex gold futures and options to its smallest level since late January, equal to 239 tonnes.
The "net spec long" bottomed at a decade low of 86 tonnes in late June 2013 as prices fell to three-year lows at $1180 per ounce.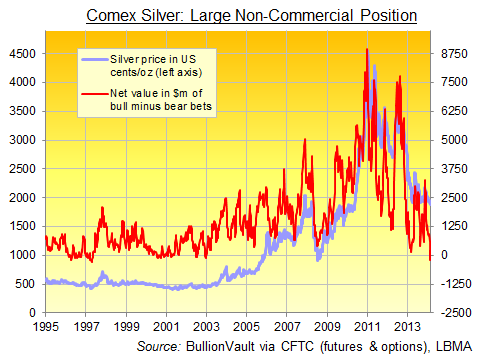 With prices trading below $19 per ounce last week, "Silver is breaking below the triangle pattern lower limit," says technical analysis from French investment and London bullion bank Societe Generale.
That triangle in
silver prices
has been "forming since July 2013," SocGen says, forecasting a "slide further towards last year lows of $18.20" in the next 1-3 months.
"[But] short-term, this downside break looks unconvincing. Normally a break below a triangle results in a sharp fall."
Looking at speculative trading in gold futures and options, "The [upwards] gold price push of late has largely arisen from short-covering," says Swiss bank UBS, "rather than fresh [bullish] length.
"Friday's consensus US payrolls didn't force gold to lose its newfound supporters," the bank's gold analysts add, pointing to the jump in bullion prices after last week's European Central Bank move to negative Euro rates and a raft of new lending stimulus.
"The sharp rebound reinforces the basing notion," says technical analysis from UBS's fellow London bullion market maker Credit Suisse.
"The price action remains bearish," reckons chart analysis from another London market maker, Scotia Mocatta, "while gold holds below former pivot of $1269."
Last week's new all-time highs in the New York stock market came as hedge funds and other speculative traders raised their bearish bets on US equities to levels last seen in 2012, according to Bloomberg data.
"That is a bullish sign," the newswire quotes Walter Hellwig at the $17 billion BB&T Wealth Management group in Birmingham, Alabama.
"[The fact] there isn't unbridled optimism shows there could be more upside."
New data meantime showed a sharp rebound in China's trade surplus for May, with exports jumping 7% as imports slipped 1.6% by value.
Gold bullion traded on the Shanghai Gold Exchange closed Monday at a slight premium to London quotes, extending the recovery from spring 2014's long, deep discount.