New Gold Record 'Likely on Trend Following' as Silver Tries $19 for 6th Time in 5 Years
Thursday, 7/09/2020 14:07
GOLD PRICES tried but failed to match yesterday's new 9-year US Dollar peak on Thursday while silver peeped above $19 per ounce for the first time since Septemer as confirmed cases of Covid-19 in the United States rose above 3 million and Tokyo reported a record daily rise in new infections.
"Silver is moving ahead with gold this time," says Rhona O'Connell at brokerage StoneX, "and
the ratio [to gold]
is contracting slightly, heading towards 97" ounces of silver per 1 ounce of gold, down from March's sudden record above 120.
Now surging by over 63% in Dollar terms since that month's Covid Crash to the lowest in 11 years,
silver's price
has only popped above $19 per ounce 6 times in the last half decade.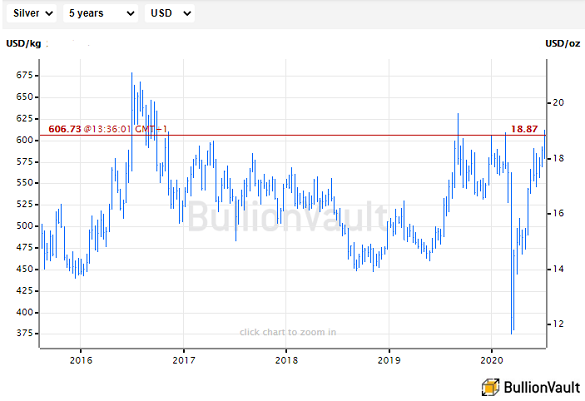 Most other commodity prices ticked higher on Thursday, but US crude oil again stalled a little above $40 per barrel.
Priced in US Dollars, gold bullion today held $12 below Wednesday's peak of $1817.95 in London spot trade.
Gold priced in the Euro meantime rose through and then slipped back below €1600 – a new record high when first reached in mid-April – for the second session running, while gold prices set new all-time highs in both Chinese Yuan and UAE Dirham.
The
UK Pound gold price today
held weaker however, showing only a £7 gain for the week so far at £1429 as Sterling rose for the 7th session in 8 on the currency market and the FTSE share index fell, contrasting with wider European equities.
Fixing at ¥401 per gram in Shanghai – center of the precious metal's No.1 consumer market – and
costing a record Dh216 per gram
in Middle East trading hub Dubai, gold has now topped its September 2011 peak in all currencies except the US Dollar and a handful of Dollar-trackers such as the Hong Kong Dollar.
Jewelry sales in Chennai – the 4th largest city in India, gold's No.2 consumer nation – are running 80-90% below typical levels,
reports The Hindu
, with many goldsmith workshops staying shut despite the relaxation of Coronavirus lockdown rules as record-high Rupee prices deter demand.
New York's giant gold ETF the SPDR Trust (NYSEArca: GLD) in contrast has expanded by another 0.9% so far this week, needing 1,202 tonnes of bullion to back its value – the most since April 2013.
Cheaper competitor price tracker the iShares Gold Trust (NYSEArca: IAU) has also grown on further investor inflows, expanding 0.4% from last weekend to a new record of 459 tonnes in backing.
"While ETFs continue to pile in," says today's trading note from Swiss refining and finance group MKS Pamp, "it was a slower session today in Asia, the precious metals trickling lower on some light intraday profit taking, before gradually ticking higher.
"Gold certainly seems poised for a test higher over the coming weeks."
"Some selling does appear on price strength from selective
miners hedging future production
," says a London bullion market-making desk, "mostly out of Australia where prices are at sky-high levels.
"But overall this activity is non-impactful...Until we see sustained dishoarding flows from ETFs, the gold price is likely to remain supported by trend followers and momentum."
US Treasury bond yields, when adjusted for inflation expectations, meantime held unchanged on Thursday from this week's end-2012 lows in real 10-year rates and mid-2013 lows in real 5-year rates.
10-year TIPS rates today traded 9 basis points above their series lows of early December 2012.
5-year TIPS have another 70 basis points to drop before matching their lows of October that year.