Comex Gold Premium Evaporates as US Fed Vows Negative Real Rates to 2022, Silver Price Twice as Volatile
Thursday, 6/11/2020 14:15
GOLD and SILVER PRICES edged back from 1-week highs in London trade Thursday, but kept half of last night's 1.7% and 3.4% spikes against a falling US Dollar after the Federal Reserve gave a dire forecast for the world No.1 economy's recovery from the Coronavirus pandemic and shutdowns.
Now predicting GDP will fall 6.5% this year before rebounding only 5.0% in 2021, the
Fed policy committee's latest forecasts
see core inflation on the PCE measure slowing to 1.0% in 2020, before rising to 1.5% next year and then 1.7% in 2022.
The Fed's key interest rate will in contrast stay at 0.1%, policymakers predict, locking in a real terms loss of value for cash savers.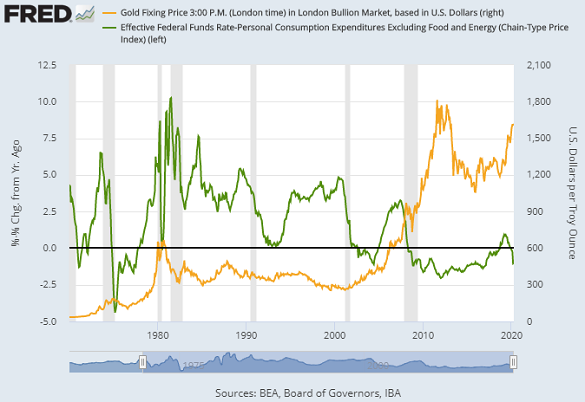 Spot gold prices for settlement in London spiked near $1740 in late US trade Wednesday, before edging back to $1730 by lunchtime today, keeping the metal on track for its first weekly gain in four.
Comex August futures – now the CME exchange's most active contract for settlement in New York –meantime retreated to $1730 after spiking near $1750 per ounce.
"To the outsider," says Allan Finn, director of global commodities at secure logistics specialists Malca-Amit, March 2020's temporary closure of Swiss gold refiners, plus the collapse in air-passenger flights out of London, led to an "immediate conclusion that this
would restrict the ability of secure logistics providers
to facilitate the global movement of stocks.
"This assessment was naïve and ill-informed."
Swiss gold bullion exports to key Asian markets fell to almost non-existent levels in April, while there was a surge in flows to the West, with the US and Germany accounting for over 90% of gold exported that month.#SwissGold #MetalsResearch #Refinitiv pic.twitter.com/DduTLfp6Xk

— Refinitiv Metals (@Metals) June 4, 2020
Thanks to record shipments into the US during the global coronavirus pandemic and shutdowns – and despite the fact that less than 1% of Comex contracts typically end with bullion settlement rather than cash – gold
stockpiles in Comex-approved depositories
in and around New York yesterday reached a record 925 tonnes, more than 4 times the level of a year ago.
That compares to
a low of 0.3%
as gold neared the end of its post-global financial crisis bear market in 2015.
New York's 'premium' to London for silver also fell back Thursday morning, dropping from 20 cents at last night's peak to slip below 10c per ounce after averaging a record 50c last week.
In contrast to New York gold holdings, Comex warehouse stocks of silver remain unchanged for 2020 to date around 9,700 tonnes, having risen for a 3rd year running in 2019 as "still subdued retail [US coin and small-bar] investment demand in the country perpetuated over-supply," according to
the latest Silver Survey
from specialist analysts Metals Focus, published by the Washington-based Silver Institute.
"The structural [global market] surplus that has been in place in recent years for silver continued in 2019," says that report, as "supply exceeded demand by 973 tonnes" – equal to 3.7% of last year's global silver-mine output.
April's anti-virus lockdowns in former No.1 gold mining nation South Africa – now down to 7th place – saw its output of the yellow metal plunge by 59.6% from the same month last year, new data show.
"The largest negative contribution to total mining output growth was made by the Platinum Groups Metals (PGMs)," says a client note from bullion bank ICBC Standard, "which contracted 62.0% after contracting 35.1% year-on-year in March."
Platinum prices
failed to hold their post-Fed rebound in London trade Thursday, falling back to erase the week's prior 3.5% gains at $817 per ounce.