Gold Prices Regain Fed Rate-Cut Plunge as Iran Warns of 'All-Out War', ECB Loans Find Low Take-Up
Thursday, 9/19/2019 14:40
GOLD PRICES held unchanged from this time yesterday and also 1 month ago lunchtime Thursday in London, erasing the steep 1.6% plunge made yesterday when the US Federal Reserve cut its key interest rate as expected but was cautious on further rate cuts ahead,
The central banks of Japan, Taiwan, Switzerland and the UK today all kept their monetary policy rates unchanged at September's scheduled meetings, with the QE asset purchase programs in Tokyo, Zurich and London also left unchanged.
Indonesia – the world's 4th most populous nation – cut its interest rates
for the 3rd month running
, reversing half of last year's hike, while Norway – the 15th largest oil-producer – raised its key rate once more, reaching the highest in nearly 5 years at 1.5%.
Trading back above $1500 per ounce in US Dollars, the gold price in other major currencies was also unchanged from 24 hours before, trading above £1200 for UK investors and back at €1357 in Euros.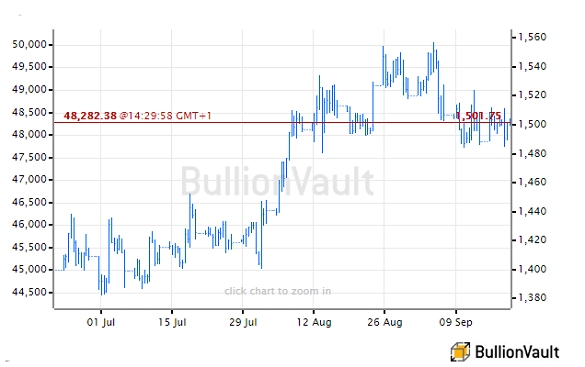 World stock markets rose Thursday while crude oil prices bounced hard after erasing 70% of Monday's record spike, rallying more than 2% in London trade as Iran's foreign minister warned of "all-out war" if the United States or Saudi Arabia take military action against it over
last weekend's drone strikes
.
"I am making a very serious statement that we don't want war...But
we won't blink
to defend our territory," Javad Zarif told CNN.
Despite the drop in gold prices overnight, the giant SPDR Gold Trust (NYSEArca: GLD) expanded by 0.4% in size on Wednesday, while the second-largest gold ETF, Blackrock's iShares product (NYSEArca: IAU), expanded by 0.3%.
The largest such silver-backed ETF shrank 0.3% in contrast as investors liquidated the stock overall.
Platinum in contrast held a 1.0% loss from last week's finish at $939.
"There was a swift fall [in gold prices] following the Fed's announcement," says the Asian trading desk of Swiss refiners and finance group MKS Pamp, "with gold dropping $25 to a low of $1484.
"Buying interest at these levels supported the yellow metal."
Shanghai gold prices today held an $11 premium to London quotes, suggesting solid demand in the metal's No.1 consumer nation.
Meantime in Euros however, the ECB's first offer of "targeted" long-term loans since March 2017 – also known as TLTRO3 – was accepted by fewer than 30 banks wanting a total of only €3.4bn ($3.8bn) against forecasts of perhaps €100bn.
"[This shows] just how much liquidity is already sloshing around the financial system," says Bloomberg.
"Although growth of household spending has
been rising at a strong pace
," said the Fed on Wednesday, emphasising comments from its July statement, "business fixed investment and exports have weakened."
"Capacity utilisation is somewhat above a normal level," said the Norges Bank's executive board in
its policy statement
raising rates, before warning of "a renewed acceleration in debt growth and house price inflation" plus a "weaker-than-projected" Krone.
Gold priced in the Norwegian Kroner set a new record peak earlier this month more than 21.7% above its previous all-time high of July 2016 and 35.9% above the prior peak of September 2011.
Meantime in politics, the UK's current Brexit minister, Steve Barclay, today gave a speech in Madrid which the UK's right-wing
Telegraph
newspaper's Europe editor characterized as "
confrontational, laden with threats, very aggressive
" about the possibility of a "no deal" exit from the EU on Halloween.
The UK's Supreme Court today continued hearing arguments over the Johnson administration closing Parliament.
After both EC President Juncker and EU chief Brexit negotiator Barnier yesterday said they have receieved no new proposals from London to resolve the key Irish backstop issue, the UK today said it has sent Brussels a series of "non-papers" reflecting "the ideas [it] has been putting forward [but] not a formal position."