Gold Price Rises in GBP as UK Raises QE by 15%, Pushes 'No Deal Exit' from EU
Thursday, 6/18/2020 15:31
GOLD PRICES fell against a rising US Dollar in London trade Thursday, slipping to $1720 but holding flat versus the Euro and reaching 2-week highs against the UK Pound as the Bank of England raised its QE stimulus by 15% and global data showed new cases of coronavirus rising quickly once more.
Brazil has now confirmed almost 1 million cases of the virus, with Russia
moving into 3rd place
behind the USA, where last week's jobless benefit claims today came in higher than analysts expected.
Even with the virus in retreat, "Concerns about job security could...lead to an increase in precautionary saving, further dampening the recovery,"
agreed UK policymakers
at today's Bank of England meeting.
Fearing "the potential for a negative feedback loop to develop from unemployment to spending", the Bank kept overnight UK interest rates at their new record low of 0.10% and also approved another £100bn ($124bn) of quantitative easing, taking its total holdings of government bonds to £745bn – equal to one-third of GDP and 42.5% of the UK state's current outstanding debt in issue.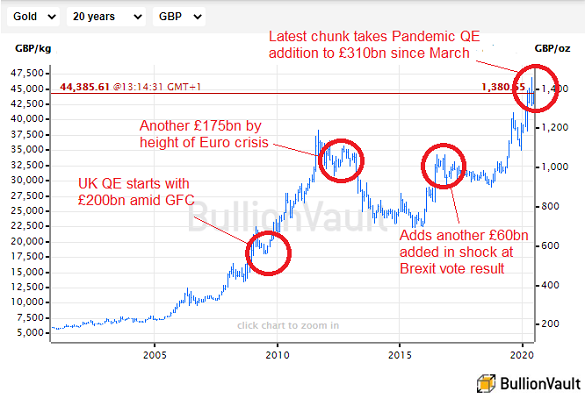 Dissenting against today's additional QE however, the Bank of England's chief economist Andrew Haldane said "the recovery in demand and output [is] occurring sooner and materially faster than had been expected...
boosting inflation prospects in the medium term
."
"The age of disinflation and deflation is over," reckons the
latest macro analysis
from financial historian Russell Napier, saying that "for the first time in twenty-five years of writing research for professional investors, [he] finds himself as an inflationist."
The UK, Greece and Brazil were almost alone among OECD nations on Thursday in seeing their government bond prices fall, driving interest rates higher.
Ten-year US Treasury yields fell to 1-week lows at 0.67% per annum, while
Germany's 10-year Bund yield
fell towards the middle of the last 3 months' range, costing new buyers 0.45% per annum in negative yield.
Gold priced in Euros today recovered the week's earlier loss to trade back at €1537 per ounce.
The 27-nation European Union "is in advanced talks" to buy coronavorus vaccine – should it prove effective and safe – from pharma giant Johnson & Johnson using money from centralized emergency funds of €2bn.
The UK has meantime awarded a £4.5m advertising contract to a London agency for a 4-stage "transition campaign" – including a phase termed "shock and awe" by the government's briefing document – aimed at urging British citizens and business to prepare for end-December's full exit from the EU.
Besides wanting to "de-dramatise" the risk of disruption while also overcoming what it calls "a large degree of complacency" among business and households over the event, the briefing says a policy goal of the project is to ensure that "the EU is clear that the UK has made the necessary preparations to leave the transition
without a further negotiated outcome
."
The German government is "urging other EU states to prepare for [such] a no deal Brexit,"
says Reuters
, citing "an internal document" that says "Britain is already escalating threats in Brussels...[and] it is therefore important to preserve the unity of the 27."