'Momentum Traders' Keep Gold Prices Near 3-Month High Ahead of Trump, Yellen Speeches
Monday, 2/27/2017 14:25
GOLD PRICES remained close to 3-month highs on Monday morning in London as world stock markets slipped further from last week's new all-time highs ahead of this week's key speeches from US President Trump and Fed Chair Janet Yellen, writes Steffen Grosshauser at BullionVault.
Gold traded in a $6 range around last week's close of $1257 per ounce, near the highest level since Trump's presidential election victory last November.
Donald Trump speaks to the US Congress on Tuesday night, most likely focusing on economic policy – expected to spend on infrastructure and cut taxes to boost the US economy.
With 2 weeks until the Fed's key March meeting, chair Yellen will address the 'Economic Outlook' in a speech in Chicago on Friday.
"The biggest driver of gold has been the relatively weak US Dollar," reckons Jiang Shu, chief analyst at Chinese gold mining group Shandong.
"People think that...Trump doesn't want a strong Dollar and the market thinks that perhaps there would not be a rate hike in the first half of the year."
Comex gold derivatives bets grew yet again last week, new data showed Friday, with hedge funds and other money managers increasing their bullish position – net of bearish contracts – to the highest in almost 3 months in the week to 21 February.
Silver's net speculative long position of 'Managed Money' traders grew faster still, reaching 78% of last year's all-time record high.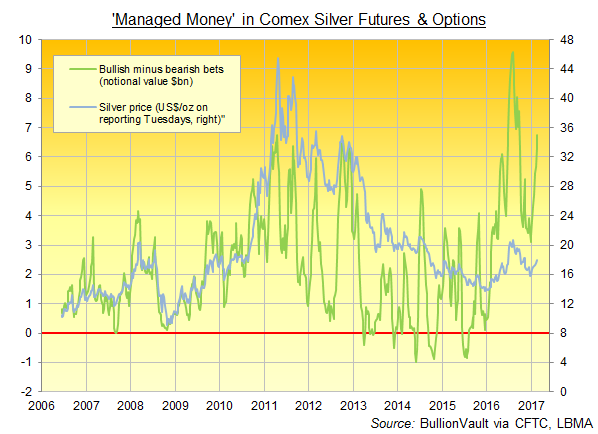 Silver tracked gold prices Monday, retouching a 16-week high at $18.42 per ounce before slipping back.
Platinum rose to its strongest level in nearly 5 months at $1029 per ounce.
With Trump still to announce his fiscal policy, the new
US president complained on Twitter
at the weekend that the mainstream media haven't reported the US national debt falling by $12bn during his first month in power, versus a $200bn rise in the first month of Barack Obama's presidency.
Worldwide sovereign debt is set to reach a new record high of $44 trillion this year, according to an estimate from financial information providers S&P Global, despite a slight reduction in governments' annual borrowings.