Gold Prices Struggle as Tesla Sinks After Burning Short Sellers, Copper Rallies Despite Coronavirus
Thursday, 2/06/2020 13:52
GOLD PRICES struggled to regain half of this week's $40 losses in London on Thursday, trading below $1565 per ounce as world stock markets rose yet again despite a fast-worsening economic outlook amid the coronavirus outbreak spreading from China.
With Beijing today saying over 500 people have now died from the virus in China, and with most of the world's No.2 economy still ordered not to return to work after the Lunar New Year holidays to try and stem the outbreak, Shanghai's CSI300 index jumped once more, cutting its loss from this time last month to 5.6% and showing a better than 20% gain from early February 2019.
Other Asian and then European stock markets also gained, extended their bounce from Monday's 6-week lows on the
MSCI all-countries World Index
, back towards last month's new all-time highs even after shares in electric auto manufacturer Tesla (Nasdaq: TSLA) last night sank by one-fifth after more than doubling since New Year 2020.
Betting against Tesla's stock in January saw UK hedge funds run by Crispin Odey lose 11.2% last month, more even than his strategies cost investors in 2019, when global equities gained 24.2% on the MSCI ACWI.
"Mark-to-market, year-to-date losses for traders betting against Tesla swelled to as much as $11.47 billion on Wednesday, data from financial analytics firm S3 Partners show."
Crude oil slipped after rallying hard from its coronavirus plunge on Wednesday's press reports of a possible 'cure' being developed.
Copper in contrast edged higher, extending its bounce after plunging nearly 13% since the coronavirus outbreak began to make headlines in mid-January, coming close to 3-year lows on Monday at barely half its peak of the 'commodity supercycle' ending in 2011.
Priced against precious metal gold, industrial metal copper today traded at 3.6 ounces per tonne, holding near its cheapest since the modern-era lows of mid-2016.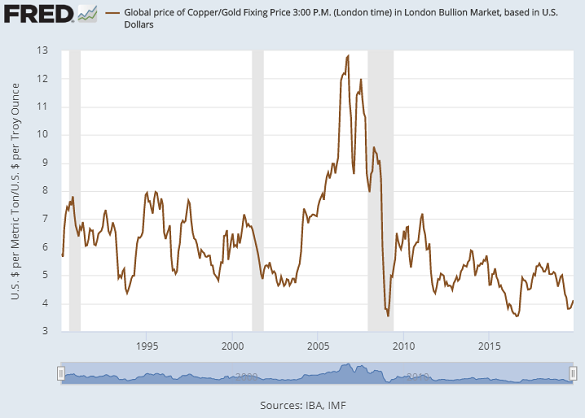 "Copper is in the early stage of entering a physical tightening cycle if prices don't sustainably rally," says
a new 2020 outlook for base metals
from Canadian financial services group Scotiabank.
"This is led by supply underperformance, which more than offsets low & weak demand assumptions."
In contrast, says Scotia's analyst Nicky Shiels, "Gold remains an investment story driven by Western investment flows and central bank buying...and less so a commodity story driven by Eastern physical flows.
"We don't see this participation mix changing much in 2020, as central banks and Eurasia continue to 'de-dollarise' into the current mature business cycle, [nor] given the increasingly more fraught geopolitical and trade regime."
Following US President Trump's acquittal in the Ukraine-corruption impeachment, the US Dollar today held near its highest since late-November against a basket of the world's other major currencies.
Gold in Euro terms meantime rose back above €1420 per ounce, a new record high when first reached early last month.