Gold Prices Jump to 3-Week Highs as Stock Markets Sink on China's New Year Coronavirus Crisis
Monday, 1/27/2020 14:59
GOLD PRICES jumped 1% at the start of Asian trading before easing back on Monday as the Chinese coronavirus death-toll rose 81 with almost 3,000 confirmed sick, writes Atsuko Whitehouse at BullionVault.
Spot gold prices rose to $1588 per ounce, almost a 3-week high, while global stock markets fell sharply.
Many Asian bourses remained closed on Monday for the Lunar New Year holidays, now extended in China until next week to stem travel and contagion.
The pan-European Stoxx 600 fell by 2%, matching the drop in Japan's Nikkei 225.
"In this kind of an environment, stock markets could tank, and that fear is further adding to the risk-averse sentiment," Bloomberg quotes one Indian analysts, saying that makes "the outlook bullish for gold," targeting this month's top of $1610 "in the near term."
Investor demand grew the giant SPDR Gold Trust (NYSEArca: GLD) last week, expanding the quantity of bullion needed to back its shares in issue by 1.8 tonnes to 901 tonnes, the highest in 11 weeks.
Cheaper competitor gold ETF the iShares Gold Trust (NYSEArca: IAU) gained 2.75 tonnes to 368 tonnes, the highest ever recorded.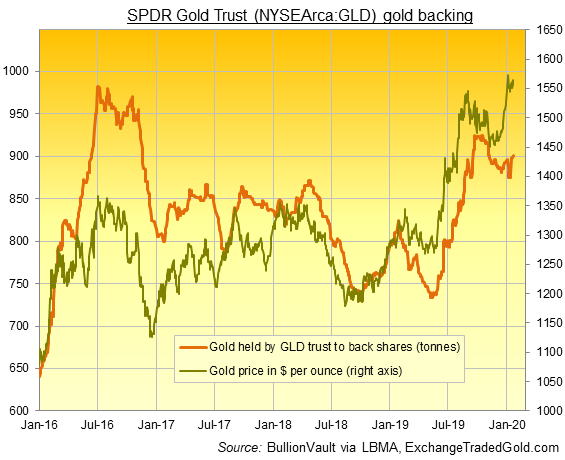 In Shanghai the government today said businesses
shouldn't return to work
from the Lunar New Year holidays until 9 February, well over a week later than scheduled, to prevent the coronavirus spreading.
The ban applies to all companies apart from utilities, medical firms, medical suppliers, and supermarkets.
Beijing has also closed the Forbidden City to tourists, as well as a section of the Great Wall, while locking down at least 16 cities by shutting their public transport.
Hong Kong has also banned the entry of people who have visited the province of Hubei – where the outbreak was first reported – in the past 14 days.
Despite Chinese markets staying closed for the New Year holidays, the Chinese Yuan's offshore value in foreign markets tumbled 0.8% to the weakest since end-2019, while the Japanese Yen – frequently viewed as a safe haven currency – rose against the US Dollar to a 3-week high.
Major government bonds meantime rose in price, pushing the yield offered by 10-year US Treasury debt down to its lowest since October ahead of this week's short-term interest-rate decision from the Federal Reserve on Wednesday.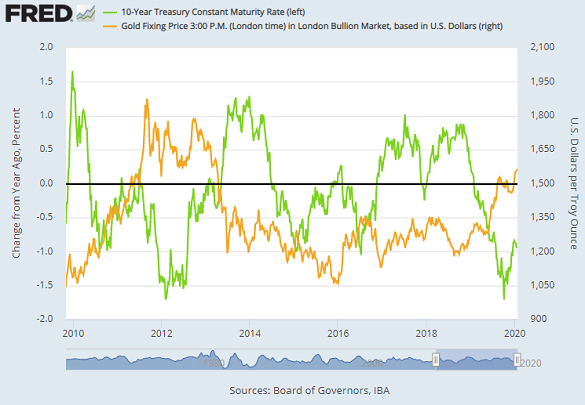 Gold prices for European investors also gained Monday, rising 0.8% to €1437 per ounce – the highest in 3 weeks – as the Euro currency erased earlier gains against the Dollar following an unexpected deterioration in German business sentiment on the Ifo Institute's latest survey.
Italy's 10-year bond yield today fell to a three-month low after the right-wing League Party of Matteo Salvini failed in local elections on Sunday to overturn decades of leftist rule in the wealthy northern region of Emilia-Romagna.
In contrast to government bonds, crude oil extended its price decline, dropping below $60 for the first time in nearly three months amid the delayed business re-opening dates in No.2 consumer China.
UK gold prices in Pounds per ounce
were also up 0.8% to reach £1212, also a 3-week high, as Sterling held relatively unchanged versus other major currencies ahead of Thursday's interest rate decision from Bank of England and then the UK officially leaving the European Union on Friday.