Comex Trading Sees Gold Price Spike on Iran Rocket Attack But Stock Markets Rally on US Jobs Data
Wednesday, 1/08/2020 14:07
GOLD PRICES jumped to fresh all-time highs in a raft of major currencies early Wednesday as news broke of Iran striking US targets in Iraq with 2 dozen rockets in retaliation for last week's assasination of special forces commander Qasem Soleimani.
Led by a surge in gold futures and options trading rather than physical bullion demand, the gold price in US Dollars hit a new 7-year high of $1611 while the metal set fresh records in Euros as well as mining-producer currencies the Australian and Canadian Dollar, plus major gold-consumer currencies the India Rupee and Turkish Lira.
Gold prices then retreated sharply, back to $1575 in US Dollars, as both Washington and Tehran – amid calls from allies on both sides for "de-escalation" – seemed to play down the seriousness of Wednesday's rocket attack, while new US jobs data blew past Wall Street forecasts.
Already last week, ahead of Soleimani's killing, the net speculative long position of hedge funds and other money managers trading US Comex
gold futures and options
rose within 10% of September's new all-time high according to the latest data from US regulator the CFTC.
That jump was driven by fewer individual traders, however, with the net number of bullish speculators staying more than 25% below June 2010's all-time peak.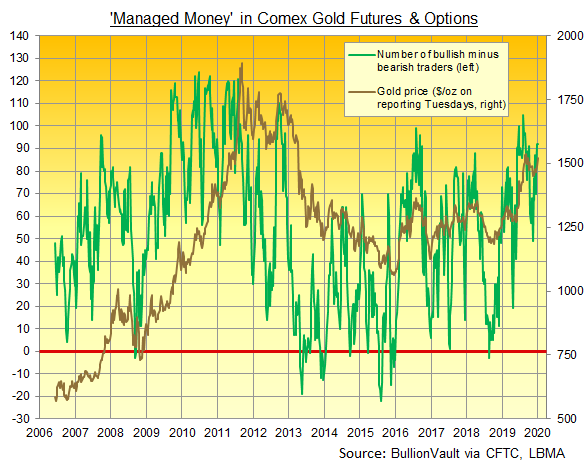 Coinciding with an airplane crash killing all 170 people aboard at Tehran Airport, and the most direct attack by Tehran's theocratic regime against the United States since the 1979 hostage crisis, this morning's missile attack was "a slap in the face" said Iran's Supreme Leader Ayatollah Khamenei.
President Hassan Rouhani said Tehran's "final answer will be to kick all US forces out of the region."
All is well! Missiles launched from Iran at two military bases located in Iraq. Assessment of casualties & damages taking place now. So far, so good! We have the most powerful and well equipped military anywhere in the world, by far! I will be making a statement tomorrow morning.

— Donald J. Trump (@realDonaldTrump) January 8, 2020
Priced in the 'safe haven' Japanese Yen, gold today touched ¥5,579 per gram on news of the Iranian ballistic missile strikes, it highest price ever outside 5 days at the peak of January 1980's Iran-US and Afghan-Soviet crises.
Shanghai gold prices rose within ¥1 of end-August's 7-year high, fixing at ¥357 per gram.
That pushed the premium for bullion landed in China, over and above London quotes, up to the highest in 2 weeks at $7.50 per ounce, more than twice the incentive for new gold imports to the metal's No.1 consumer nation but still 15% below the average despite Chinese New Year – now the world's single heaviest buying festival – falling on 25 January.
World stock markets meantime fell hard only to rally as the start of New York trading approached on Wednesday, holding near this New Year's fresh all-time record highs overall.
Crude oil meantime spiked back above $70 per barrel of Brent, the sudden multi-month high reached after
Friday's drone killing of Soleimani in Baghdad
, but it fell back harder this time, dropping to the lowest since last Thursday beneath $68.
Major government bond prices fell, driving longer-term interest rates higher, as ADP Payrolls' estimate of US employment said the world's largest economy last month added 202,000 jobs, beating analyst forecasts by almost two-thirds.