Gold Price Holds Dollar Gains as Stock Markets Hit Record on US-China Rumors, UK Election
Friday, 12/13/2019 14:06
GOLD PRICES held firm against a solid US Dollar in London trade Friday, heading for the highest weekly close in 6 even as global stock markets rose to new all-time highs following a solid victory for the UK's Brexit-backing Conservative Party and amid rumors that a 'phase one' US-China trade deal is imminent.
The British Pound made its sharpest rise this decade, jumping 4.5 cents against the Dollar, after UK prime minister and arch-Brexit campaigner Boris Johnson won a strong majority in the House of Commons from yesterday's snap General Election, called to resolve Parliament's failure to approve his first-stage Brexit deal with the European Union.
News-agency Reuters meantime claimed overnight that Washington will suspend tariffs due to hit $160bn of annual Chinese imports from Sunday, while Beijing will double China's 2020 imports of US agricultural goods to $50bn.
Competitor data-and-news agency Bloomberg then said US President Donald Trump had "signed off on [this] phase one deal," also citing people "close" to the discussions.
Asian stock markets rose, and the MSCI World Index of developed-market equities finally set a new all-time high, beating its January 2018 peak as European shares added 1.5% in morning trade.
But with gold prices holding near $1469 per ounce – up nearly $10 from last weekend – the start of New York trade came with no formal statement on a China-US trade deal from either side.
Congratulations to Boris Johnson on his great WIN! Britain and the United States will now be free to strike a massive new Trade Deal after BREXIT. This deal has the potential to be far bigger and more lucrative than any deal that could be made with the E.U. Celebrate Boris!

— Donald J. Trump (@realDonaldTrump) 13 December 2019
US Treasury bonds ticked higher, edging bond yields down, but UK government bond prices slipped, nudging 10-year borrowing costs up to their highest since June at 0.84% per annum.
Reaching 18-month highs at $1.35 meantime, the British Pound still only rose to
what was a 3-decade low
when first hit during the Brexit referendum result's crash of 24 June 2016.
Gold priced in Sterling made its steepest one-day drop since mid-October, falling by £30 per ounce before rallying to £1100 per ounce.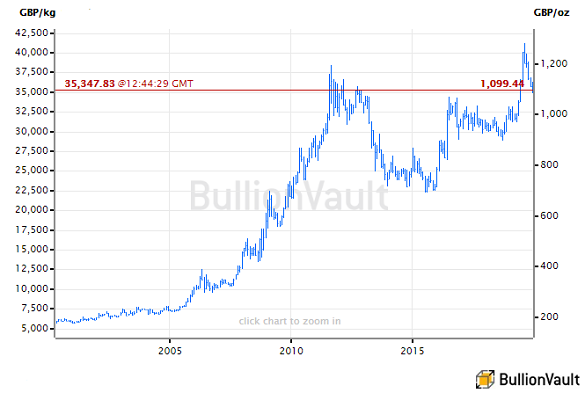 Avowed anti-Brexit party the LibDems grew their share of the vote but lost seats overall, including their leader Jo Swinson's.
With Boris Johnson now set to "get Brexit done" on 31 January, Scotland saw
a near clean sweep for the Scottish National Party
, giving its leader Nicola Sturgeon what she said is a clear mandate for demanding a second referendum on independence after the 2014 victory for remaining in the UK.
Voters in Northern Ireland also gave more seats to nationalist than unionist parties, for the first time ever.
Ireland's Taoiseach Leo Varadkar said he'd now "be giving this everything" to try and re-open Northern Ireland's devolved Assembly in January, ahead of the UK's exit from the European Union.