Gold Price Near 1-Month Highs as China, India and Central-Bank Demand Rises
Monday, 9/06/2021 14:00
GOLD PRICES held near 1-month highs in quiet trade Monday as the US was shut for Labor Day and the metal showed signs of improved demand in top consumer markets China and India, as well as among central banks, writes Atsuko Whitehouse at BullionVault.
European stock markets rose near new record highs ahead of the Eurozone central banks' policy meeting on Thursday.
Asian stocks earlier closed higher, boosted by Japan, where the exit of Prime Minister Yoshihide Suga
amid a slump in voter approval
over his handling of the Covid Crisis saw the Nikkei add 1.8% as his LDP party looked more likely to retain control of Tokyo's lower house of parliament.
"While the strongest driver of the gold price is investor activity around the Fed's monetary policy, it is the physical buying by retail investors in countries such as India, China and more recently Germany and central banks that has been the main driver of the gold price recently," says a note from Bruce Ikemizu, chief director of the
Japan Bullion Market Association
.
"The fact that last month's flash crash was short-lived and was followed by a much larger rally is proof of this."
Gold imports by India, the world's second-biggest bullion consumer, in August
nearly doubled from a year earlier
to the highest in five months, according to the Ministry of Commerce.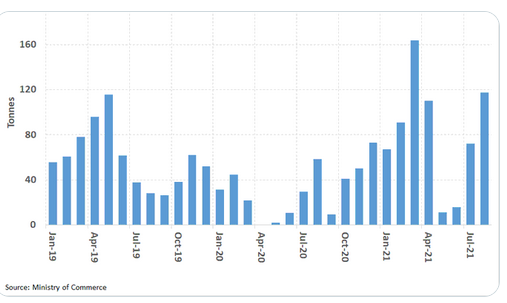 Spot gold prices today edged lower by 0.1% to $1824 per ounce after briefly spiking to $1833 on Friday – the highest print since mid-June – following
much weaker-than-expected US jobs data
for August.
The non-farm payrolls report "
certainly throws into doubt
some of the taper timelines that have been discussed" for the Federal Reserve's $120 billion per month of bond-buying says John Briggs, head of macro strategy at NatWest Markets.
The Dollar Index – a measure of the US currency's value versus its major peers – meantime edged higher today from the 1-month low recorded last Friday.
Rates on inflation-protected US debt rose on the jobs data, pushing the 10-year TIPS yield up 3 basis point to minus 1.01% per annum – a 1-week high – after the Bureau of Labor Statistics said hourly wages in the world's largest economy rose 0.6% month-on-month in August, double the 0.3% forecast and accelerating to 4.3% per year.
"The rise in wages conjures up images of underlying high inflation and leads to doubts about the Fed's claim that the exceptional price rise is transitory," reckons Koichiro Kamei, a financial and precious-metals analyst.
Gold prices on the Shanghai Gold Exchange meantime continued to show a premium to London, increasing to $4 per ounce on Monday after wholesale bullion in the metal's No.1 consumer market eased to offer an incentive to new imports of just $2.50 last week – less than a third of the pre-Covid average.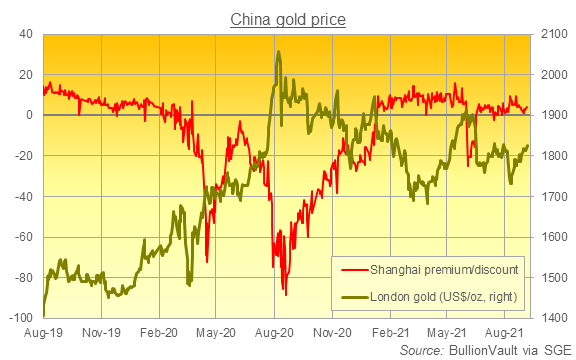 No.2 gold consumer market
India imported 121 tonnes
of the metal in August, new data say, driven by healthy retail demand, increased manufacturing activity, and a strong uptick in jewelry exports to the US, Hong Kong and China according to Mukesh Kumar, senior analyst for India at the mining industry's World Gold Council.
That compares to 63 tonnes a year earlier, as the gold price dropped nearly 12% from August 2020's all-time high of $2075 per ounce.
Central banks also
added more gold over the summer
, separate WGC data say, buying a net 30.1 tonnes in July after adding 63.1 tonnes in June, boosted by Brazil's 41.8-tonne purchase.
Across the first half of 2021, central banks bought over 333 tonnes on the WGC data, almost 2/5ths higher than the 5-year average and 29% above the 10-year average.
"We maintain our expectation that central bank net buying will be positive for the year, and it's looking more and more likely that it will be at a significantly higher level than 2020," says the World Gold Council's Krishan Gopaul, senior analyst, EMEA.
Gold prices for UK and Euro investors were meantime trading sideways at £1318 and €1537 per ounce respectively on Monday, as both the Pound and the single currency eased back from their jumps against the US Dollar.