Gold Price Rebounds as Everything But US Dollar Sinks on Covid Fears, Real US Rates Hit New Record Low
Monday, 7/19/2021 15:46
GOLD PRICES fell and then regained all of a $20 dip to 1-week lows on Monday while silver dropped to its cheapest in 3 months as stock markets and commodities sank, the US Dollar rose, and real rates on US Treasury bonds fell to new record negative lows amid the latest surge in Covid-19 infections and fears, writes Atsuko Whitehouse at BullionVault.
Covid-19 outbreaks are surging in Asia, with Indonesia's daily case count surpassing India, while Singapore's has hit an 11-month high and Thailand recorded the highest cases since the pandemic started.
Tokyo, where the Olympic are set to open Friday, saw the first cases among athletes in the Olympic Village confirmed Sunday.
In Europe, the UK lifted most remaining restrictions on Monday despite new daily cases surging to the highest in the world as Prime Minister Boris Johnson remains in self-isolation following his close contact with the nation's health minister, who tested positive for the virus last week.
New York's stock markets opened the week over 2% down after a sell-off began in Asia and hit Europe, led by airline shares as crude oil lost 5% and copper 2.8%.
Major sovereign bond yields also sank, with conventional US Treasury yields sank 10 basis points to 1.20% on 10-year debt, the lowest in 5 months.
Real rates on inflation-protected Treasurys fell almost as hard, sinking to beneath minus 1.10% per annum – a new all-time low that beats the record hit last August when bullion prices set
gold's current record high of $2075
per ounce.
"Real US yields are lower, which would normally point to higher US Dollar gold prices,"
said John Reade
, Chief Market Strategist at the World Gold Council as gold fell below $1800 per ounce.
"But so far this morning a firmer US Dollar – likely triggered by some risk aversion seen in equity markets – is proving more of a hinderance to gold than the help from more negative yields."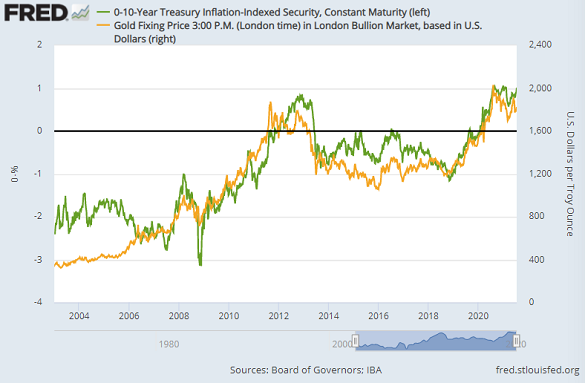 The Dollar Index – a measure of the US currency's value versus its major peers – rose 0.3% after gaining 2 sessions in a row to near 3-month highs.
"Gold's inability to benefit substantially from weaker US real yields suggested it remained vulnerable to a further pull-back," said TD Securities commodity strategist Daniel Ghali
last Friday
when gold cut its weekly gain by $20 per ounce to just $5.
"There are emerging concerns about the Delta variant and its impact on global economic growth. So, primary safe-haven flows are also going into the Dollar and bonds."
European stocks moved sharply lower on Monday as the pan-European Stoxx 600 slid 2.4% Monday lunch time, following Asian markets dropping more than 1% in Tokyo and Hong Kong.
Silver today fell to touch $25 per ounce, its lowest since mid-April, before rallying 25 cents after already losing 1.7% last week.
The
price of platinum
, which finds two-thirds of its demand from industrial uses, led by auto-catalysts, fell further by 2.9% to $1075 per ounce, widening the gold-platinum spread to over $723.
Crude oil's steep fall came after news that the Opec producer-nation cartel and its allies broke their deadlock to reach a deal on Sunday to increase oil production after imposing lower quotas last year to try
supporting prices amid the first wave
of the global Covid pandemic.