Gold Price Over $1800, Silver Breaks $19 as ETFs Expand, Comex Betting Still Tame Despite US-China Tensions, Covid Surge
Monday, 7/13/2020 13:55
GOLD PRICES rose on Monday, extending last week's gains on yet more growth in gold-backed ETF trust funds, as European stock markets followed Asian equities sharply higher despite rising coronavirus cases worldwide and the continuing deterioration in US-China relations, writes Atsuko Whitehouse at BullionVault.
The World Health Organization reported a record increase in confirmed Covid infections on Sunday, with the total rising by 230,370 in 24 hours.
Spot gold prices rose 0.5% this morning to $1808 per ounce – $10 below last week's new 9-year high – while the US Dollar slipped again, extending its drop to nearly 1% for the month so far Index against its major peers on the currency market.
That capped the gold price for Euro investors below €1600 per ounce, 2.2% below mid-May's new record.
"The current surge in price comes at an interesting time," reckons Giles Coghlan, chief currency analyst at spreadbetting brokerage HYCM, "[because while] governments are trying to bring about a post-pandemic recovery, cases continue to rise and concerns over the long-term economic downturn clearly have investors worried.
Gold-backed ETF trust funds
have now expanded for 15 weeks in a row, with both of the largest funds – the SPDR Gold Trust (NYSEArca: GLD) and the iShares gold ETF (NYSEArca: IAU) – seeing net investor inflows.
After seeing some profit-taking midweek, the GLD grew 0.8% to 1,200 tonnes – its largest in 7 years – while the IAU added 1.5% across the week to need 429 tonnes of backing, a fresh record.
Latest data meantime show that hedge funds and other money managers grew their bullish betting on Comex gold futures and options in the week-ending Tuesday 7 July, but speculation on these New York-settled derivatives remains tame given where prices now stand.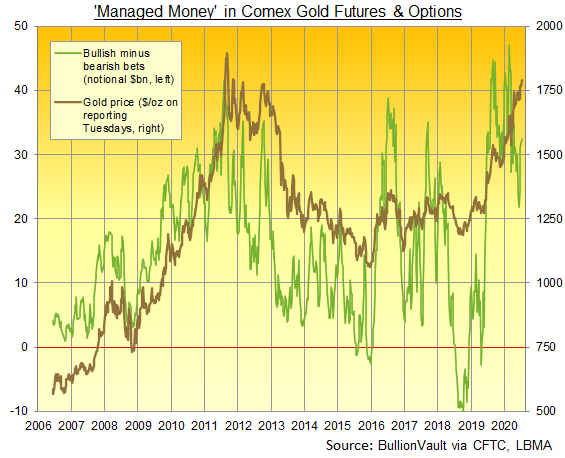 With the US Dollar gold price now trying 2011 records, data compiled by US regulators the CFTC say that bullish betting by Managed Money category of trader last week remained one-third below February's record $47bn by value, net of that group's bearish bets.
Comex silver's net bullish betting among Money Managers is meantime only 25% above its 5-year average size, despite the metal surging 64% in price from its sudden
11-year low of March's Covid collapse
.
Monday morning saw the US Dollar
silver price jump 2.2%
to $19.15 per ounce, breaching levels seen only 6 times in the last half decade, while platinum surged 2.7% to $850.62 per ounce.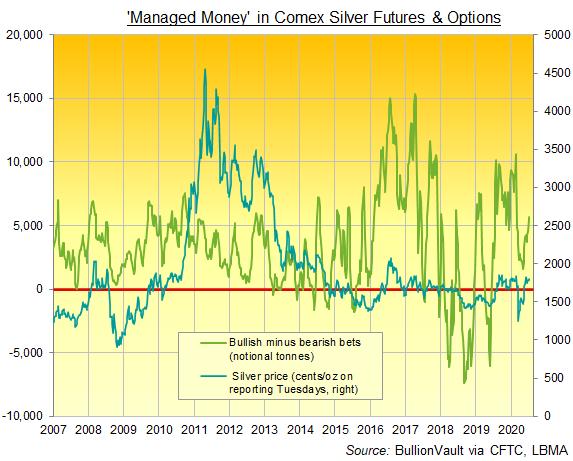 Like the big gold-backed ETFs, giant silver ETF the iShares Silver Trust (NYSEArca: SLV) also swelled again last week, expanding by 150.66 tonnes – some 1.0% – last Friday alone to reach a fresh new all-time record size, up by 2.8% with its 10th consecutive weekly growth.
Today's strength in silver pushed
the Gold/Silver Ratio
– which tracks the two formerly monetary metals' relative prices – down further to 94.40, the lowest value for gold versus silver in 4.5 months.
Stock markets in Asia meantime jumped, led by China's CSI300 index surging more than 3% despite US President Donald Trump saying that the relationship between Washington and Beijing has been "severely damaged" by the coronavirus pandemic.
The US also issued an advisory on Saturday asking its citizens to "exercise increased caution" in China due to a "heightened risk of arbitrary detention" following Beijing's widely-decried crackdown on dissent in the formerly autonomous region of Hong Kong.
Beijing retaliated on Monday, saying China will sanction a group of US politicians after Washington last week announced measures against several senior Chinese Communist party officials in protest at alleged human rights abuses against the Uighur minority in China's far west.
Gold prices on the Shanghai Gold Exchange today continued to show a historic discount to London, holding around last week's average of $23 per ounce beneath the global benchmark as local supply continues to dwarf demand.
In contrast, physical gold in India, the No.2 bullion consumer nation, rose to a premium over London prices for the first time this year even as record high prices continued to deter buyers.
Driven by plunging imports – down 86% year-on-year in June as record-high Rupee prices crushed demand and international airfreight collapsed in response to the Covid-19 pandemic – dealers ended last week charging premiums of up to $3 an ounce over official domestic prices, up from the previous week's $22 discount, according to Reuters.
The domestic price includes a 12.5% import tax and 3% general sales tax.
Led by Western stock exchange-listed funds, gold-backed ETFs as a group saw a record $40bn of net inflows in the first half of 2020, requiring an additional 734 tonnes of bullion and taking their total holdings
above the size
of gold reserves owned by Germany's Bundesbank, No.2 official-sector gold holder after the United States.