China's Gold Price Discounts Now in 18th Week as Price Breaks ¥400 Record in No.1 Consumer
Wednesday, 7/01/2020 14:09
GOLD PRICES edged back from 9-year highs near $1800 per ounce in US Dollar terms Wednesday but set a fresh all-time record in Chinese Yuan above ¥400 per gram as police in Hong Kong began arresting pro-democracy protesters and fresh outbreaks of Covid-19 saw local lockdowns re-imposed around the world.
Condemning yesterday's imposition of China's controversial 'national security law' on the former British colony, UK foreign minister Dominic Raab today
offered citizenship rights to 2.9 million
British nationals living in Hong Kong.
Fixing at $1768.10 at yesterday's London's benchmark auction, gold priced in Dollars has only ever ended 3 months higher than it finished June 2020, and only averaged more than last month's $1732 six times – all of them also in 2011 and 2012.
That beat by 40% the prior half-annual record for flows into
gold ETFs
, set in H1 2009.
Jewelry demand in contrast has evaporated in gold's big consumer markets amid the Covid Crisis.
"Retail demand is negligible. Buyers are
postponing purchases
anticipating a correction in prices," the
Economic Times
quotes one Mumbai bullion importing banker after Rupee prices in the metal's No.2 consumer nation today set yet another new all-time high at Rs 48,871 per 10 grams.
Despite setting new Yuan records at ¥400 per gram, Shanghai gold is now in its 18th week of trading below London quotes, a record stretch suggesting that domestic demand in the metal's No.1 consumer nation – from which
bullion exports are banned
– continues to lag badly below levels of supply after China became the source and the first nation to impose social and economic lockdowns during late-January's strong gold-buying festival of Lunar New Year.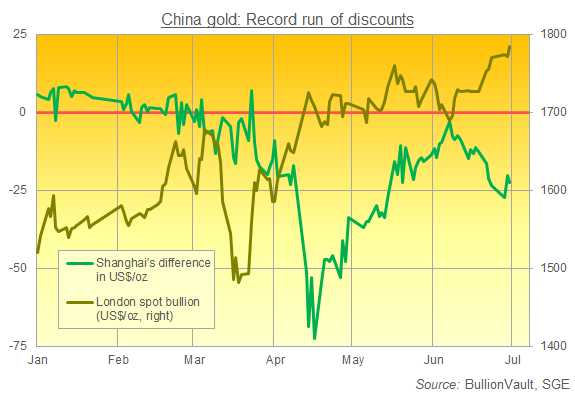 Comex August
gold futures
traded for New York settlement today pulled $10 below Tuesday's spike to 9-year highs above $1800 per ounce.
But looking at latest available trade data, "Demand for fresh bullion in Thailand
remained almost non-existent
in May," says specialist consultancy Refinitiv, "as the domestic market was awash with surplus gold as a result of the dishoarding of gold assets by investors and increased scrap."
Gold prices in Japan also set fresh all-time highs on Wednesday, beating
the top of 21 January 1980
thanks to today's additional 8% VAT sales tax to reach ¥6826 per gram.
Back in Western investment demand meantime, "Funding liquidity is pouring across markets with central banks fighting hard against recession," says one London bullion market-making bank in a note.
"Against this backdrop, analysts are bullish gold [and] favour real assets over what is considered a complete disconnect of financial markets with the reality in the streets."
"Risk aversion is not the whole story," adds strategist Jonathan Butler at Japanese conglomerate Mitsubishi, noting the US stock market's 22% gain in Q2 – "the best performance since the 1930s as expectations of a V-shaped economic recovery abound, driven by [that] unprecedented fiscal and monetary stimulus.
"But there is undoubtedly risk hedging going on in gold and other precious metals right now, helped by the negligible opportunity cost of holding non-yielding precious metals in a world of negative real interest rates."
English football's Wigan Athletic
went into administration
, seeking a rescue for the near 90-year old Championship club as the Covid-19 ban on attending large gatherings hits its revenues.