Gold Price Sets Fresh Euro Record as ETF Investing 'Offsets' China's Coronavirus Slump
Thursday, 2/13/2020 14:39
GOLD PRICES rose against most major currencies and set new all-time Euro records in London on Thursday, trading higher as world stock markets fell following a spike in new Covid-19 infections reported in China.
So far killing 1,368 out of more than 59,000 people infected in China, coronavirus was yesterday
confirmed in more than 15,000 new patients
, the National Health Commission said, more than 7 times the two-week low reported for Tuesday, thanks to a change in diagnosis methods.
Gold prices in Shanghai today fell to just 25 cents above London quotes per ounce, matching reports of very weak domestic gold demand across China, the metal's No.1 consumer nation, as bullion prices worldwide touched 1-week highs at $1577.
"People are not in the mood to shop for jewellery," Bloomberg quotes Zhang Yongtao, CEO of the government-backed China Gold Association, saying that "Stores and shopping malls are closed because of the virus."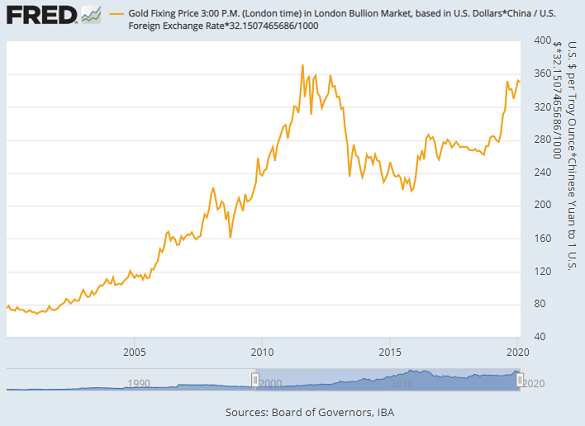 For investors in contrast, "Gold is under priced & cheap given reigniting growth fears being fought with
additional stimulus from central banks
" worried by the virus, says the latest bullion-market note from Canadian financial services group Scotiabank.
Gold-backed ETF trust funds
have now expanded as a group, seeing net inflows of investor cash, for 16 days running according to Bloomberg data, extending last month's new all-time record size for such vehicles.
Looking back to Wednesday's action – when China reported that drop in new cases of Covid-19 – "Gold prices remained relatively unchanged despite the risk-on environment," says the latest trading note from Swiss bullion refiners and finance group MKS Pamp.
"That suggests any change in sentiment to the negative could see gold continue to rally higher."
Here in London on Thursday, the Conversative government of pro-Brexit campaigner Boris Johnson today saw finance minister
Sajid Javid resign rather than sack
his entire team of aides as ordered by No.10 amid a Cabinet reshuffle.
With the Prime Minister's office already promising a "big spending" Budget next month, Sterling rose to 1-week highs on the news, trading at $1.30 and capping
the UK gold price in Pounds per ounce
beneath £1210 while longer-term UK interest rates bucked a global drop in bond yields, rising towards 4-week highs at 0.67% on 10-year Gilts.
The Pound's gain also helped dent London's FTSE100 share index of mostly international corporations, sending it 1.6% lower for the day and keeping it 5.9% below mid-2018's all-time high.
European equities slipped less dramatically, pulling Germany's Dax index 0.4% lower from Wednesday's new all-time high as 10-year Bund prices rose, pushing the yield offered to new buyers down to minus 0.39% per annum.
Gold priced in the 19-nation Euro today rose to €1450 per ounce, up more than 22% from this time last year and a fresh all-time record high.
Warning against a 'coronavirus scam' meantime, where criminals posing as WHO officials are phishing for bank details, the World Health Organization also says the
current outbreak of deadly Ebola
in the Democratic Republic of Congo – so far showing a death-rate above 50% – continues to constitute "a public health emergency of international concern."